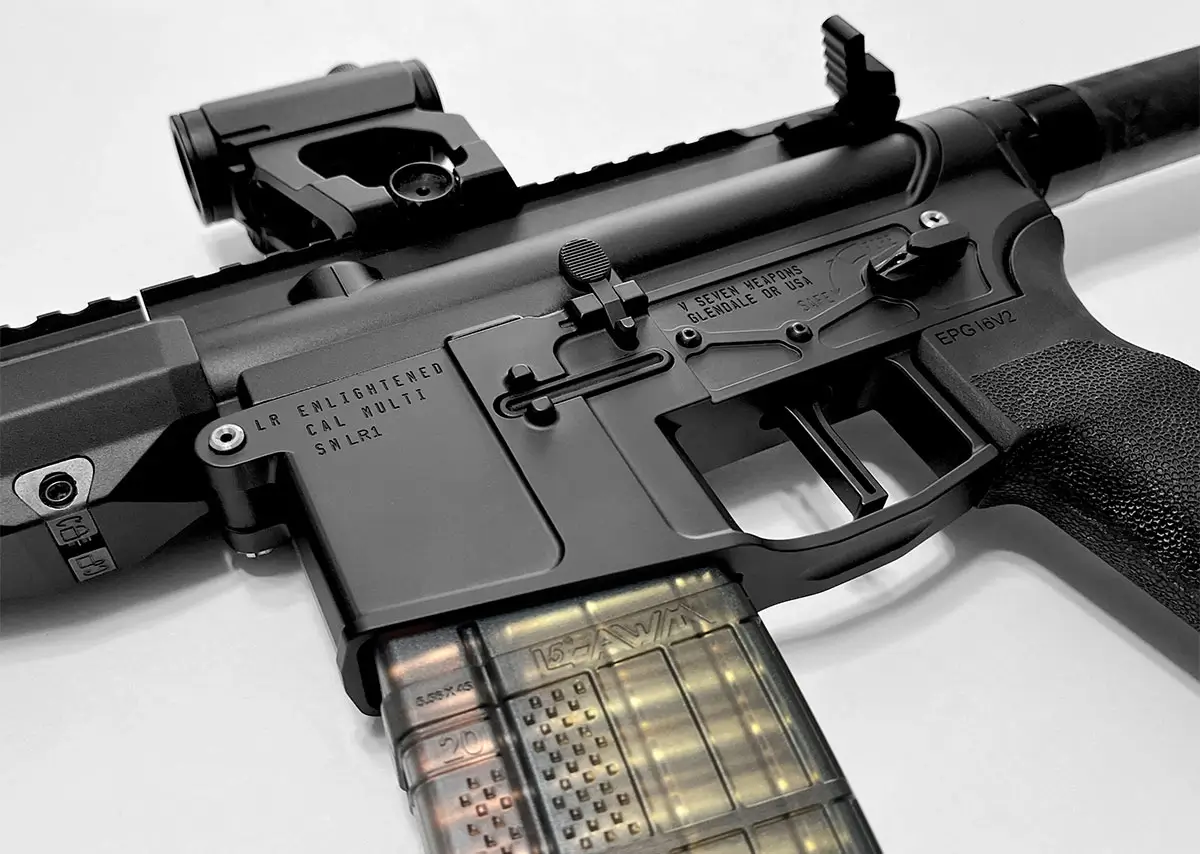 Over the last few years, there has been a growing interest in lightweight and ultra-lightweight AR-15 builds. Although there is no universally agreed upon number, I would consider a lightweight AR-15 build to be one that is under 5.5 lbs (unloaded).
Of course, when it comes to selecting lightweight parts for a lightweight AR-15 build, there are many options. One obvious place to start would be the receivers. In my search for a quality lightweight billet lower receiver, I ultimately chose V Seven.
Who is V Seven and is V Seven a Good Brand?
V Seven Weapon Systems is a top tier manufacturer of AR-15/AR-10 rifles and parts, precision engineered and machined from high-strength, lightweight materials such as grade 5 titanium, 2055 lithium-aluminum (receivers), lithium-aluminum alloy 2099 (handguards), aluminum-magnesium alloy (handguards) and 7075-T6 aluminum (receivers), making it one of the finest brands in the firearms industry.
Who is the Owner of V Seven?
Joel Allen, who previously worked at Noveske Rifleworks for 12 years, is the owner and CEO of V Seven Weapon Systems, founded in 2013. V Seven is located in Glendale, Oregon.
How Many Different Billet Lower Receivers Does V Seven Make?
V Seven makes four different Enlightened AR-15 billet lowers:
In this article, I review the V Seven Weapon Systems, LR Enlightened billet 7075 aluminum lower receiver (ENLI LR-ALU) for the AR-15.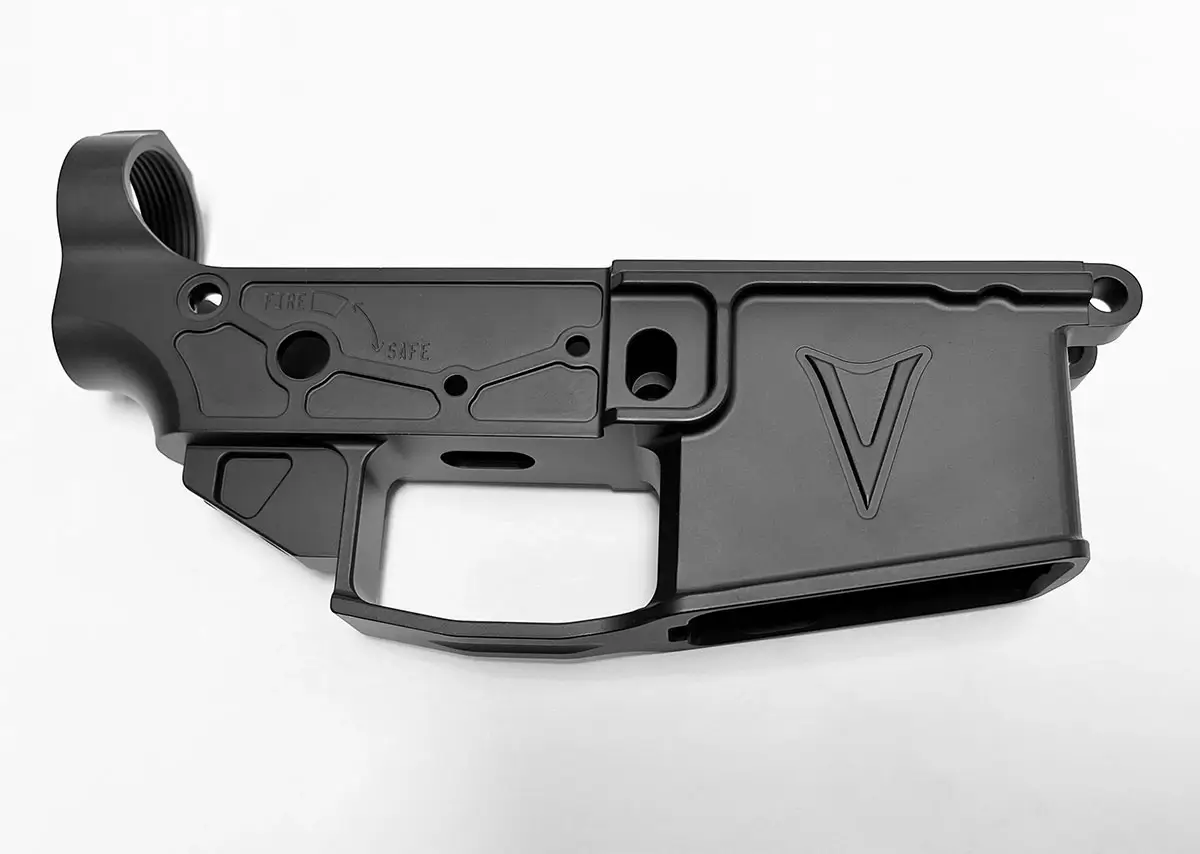 Why Did I Get the V Seven Enlightened AR-15 Lower Receiver?
I had contemplated buying a V Seven lower on and off for some time, but finally decided to get one. So, why did I purchase this particular Enlightened lower? For roughly $300 (which is about what you would expect to pay for a top-tier, billet lower), I not only got a billet lower that was meticulously crafted to the highest standards, but I was able to shave off another 3 oz from my existing lightweight, 16″ build, which now weighs just 4.6 lbs (unloaded).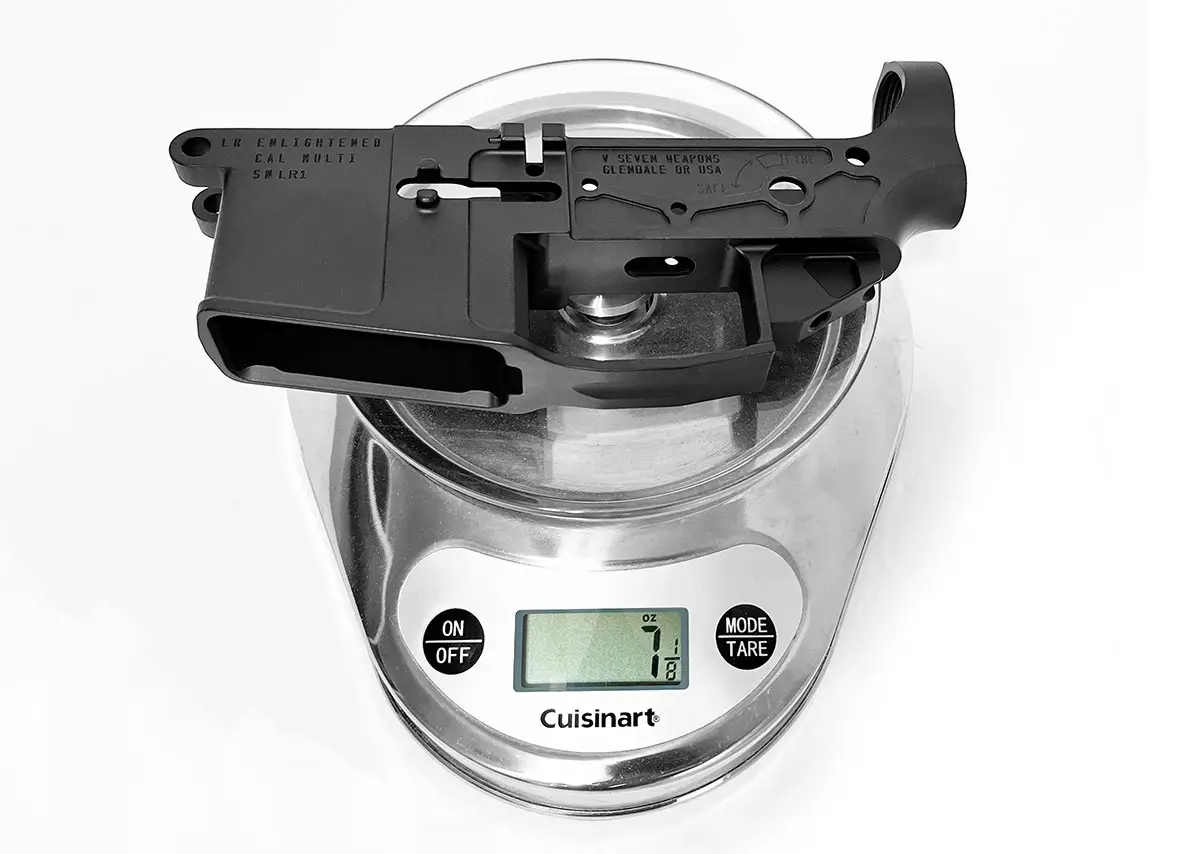 V Seven LR Enlightened Lower Receiver Features
Elegant Lightweight Design
Machined from 7075 T6 Aluminum
Armor Black Cerakote Finish (H-190)
Compatibility with all Mil-Spec parts
Included with the LR Enlightened lower receiver is V Seven's proprietary and very lightweight (.125 oz), endplate machined from 7075-T6 aluminum.
V Seven LR Enlightened Lower Receiver Weight
Stripped Lower weight: 7.1 oz
V Seven Enlightened Lower Receiver Pricing
How much does the V Seven LR Enlightened lower cost? MSRP is $296. Street price is about the same. I suggest buying directly from V Seven as they usually ship out to your FFL pretty quickly.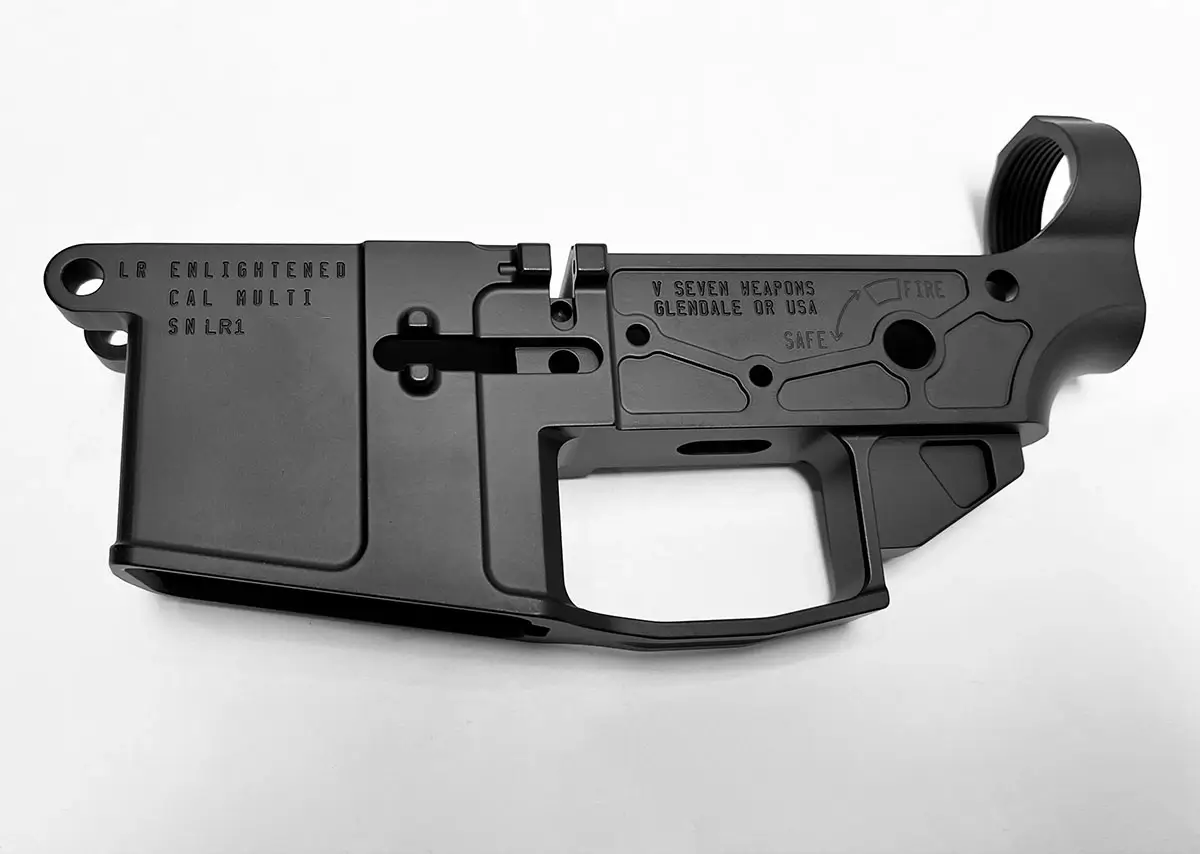 General Impressions
The first thing I noticed about the V Seven LR 7075 Enlightened lower receiver was the weight. At just 7.1 oz, this is a very lightweight lower, especially when compared to a few 11 oz lowers I have on other builds.
The design and machining of the V Seven LR Enlightened, billet lower receiver is truly top notch. A very clean, elegant, yet simple design (no ambi controls) that is free from tool marks and has a smooth, perfectly applied, black Cerakote finish. The V Seven lower also has a wide, integrated trigger guard. Additionally, this V Seven billet lower fits snugly against my Aero Precision upper with absolutely no slop.
By the way, V Seven has a note on their website product pages for all four variations of their Enlightened billet lowers, which states "Minor gunsmithing may be needed when using cassette style triggers". That said, I used a POF cassette style, drop in trigger and had no fitment issues whatsoever.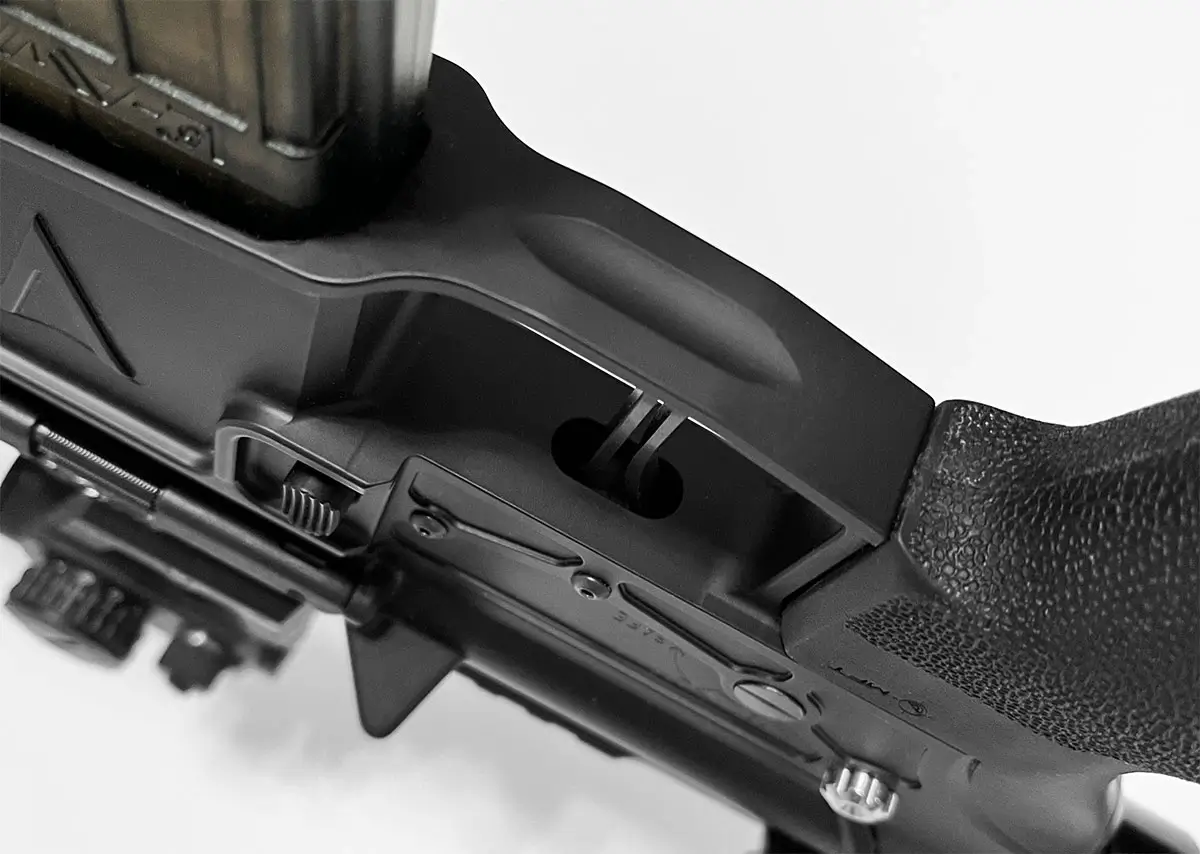 A few small things you may want to know. The bolt catch requires the use of a slotted roll pin since the rearmost bolt catch ear channel is not threaded. The rear takedown detent spring channel is also not threaded. However, I did end up tapping the rear takedown detent spring channel using a 4-40 tap, so that the rear takedown detent spring is now captured using a 4-40 x 3/32 inch socket set screw.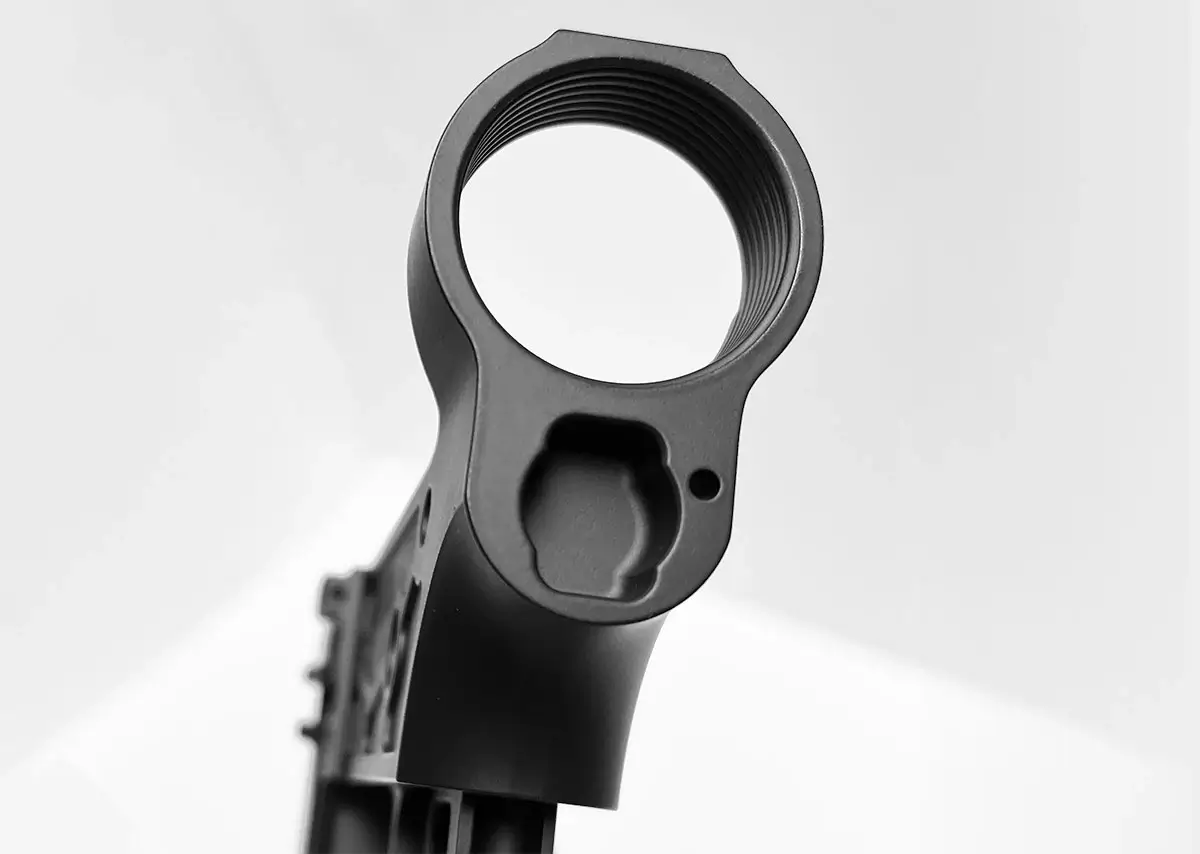 At the Range
As mentioned earlier, by using the V Seven LR Enlightened receiver on an existing lightweight 16″ build, I was able to reduce my rifle's overall weight by another 3 oz, bringing it down to a mere 4.6 lbs. Considering that a typical AR-15 weighs around 6.5 lbs, this makes holding on target, carrying and transitioning my lightweight 16″ build, much easier, particularly with a suppressor at the end of the barrel.
After sending about 200 rounds of 5.56 NATO 55 gr FMJ (M193), suppressed, down range, my 16″ lightweight build with the new V Seven LR Enlightened lower, ran flawlessly.
Although not particularly flared, I had zero issues finding the magwell when inserting mags. And empty mags (PMAGs and Lancers) dropped freely.
V Seven does offer two variations of their Enlightened lowers that have a more flared magwell. Those would be: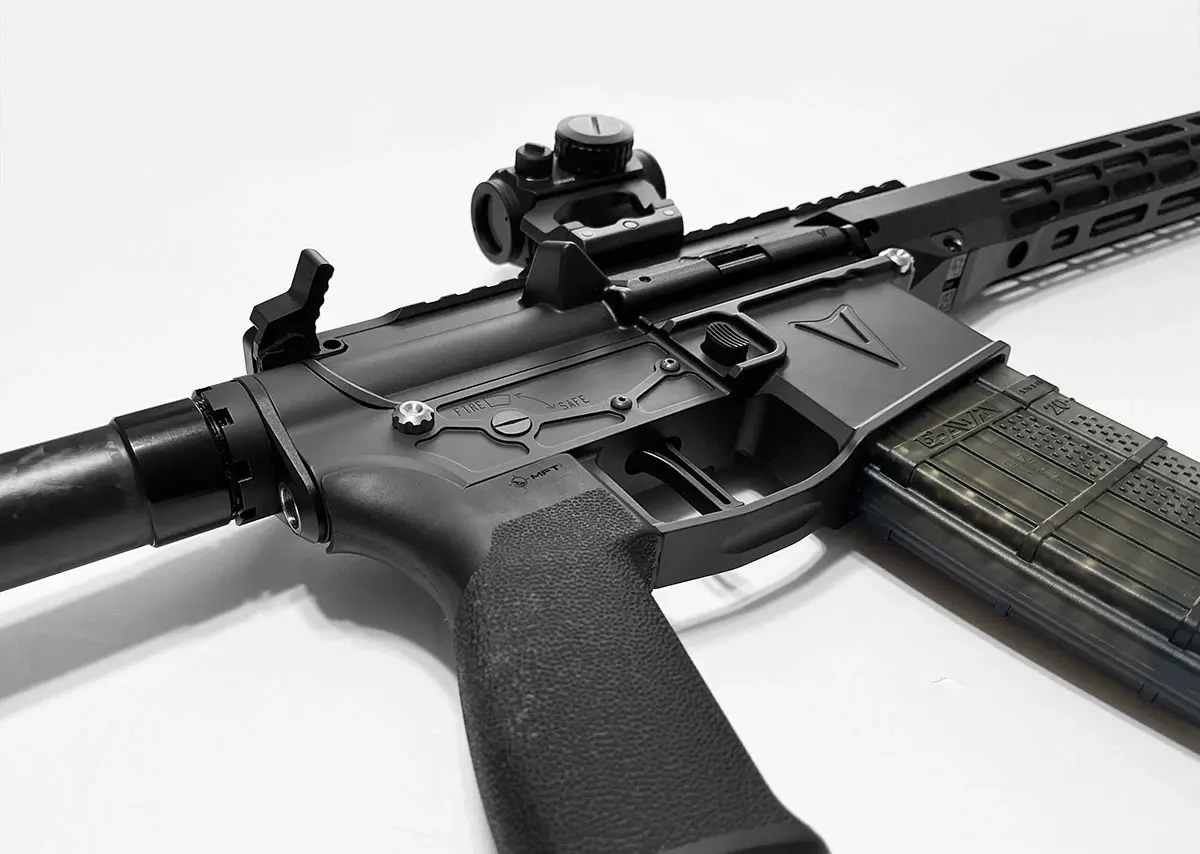 Final Thoughts
Is it worth getting the V Seven Enlightened Lower Receiver?
Yes, for me it is. While I am not made of money, there are some things worth spending my hard earned dollars on, and the V Seven LR Enlightened lower receiver, is definitely one of them. In fact, I like my V Seven Enlightened lower so much, I am now thinking about getting their 6 oz, Enlightened upper (ENLI UR-ALU) along with their 6.8 oz (including the barrel nut) Magnesium Hyper-light 15″ handguard (HYPLIGHT 15ML).
If you are looking for an exceptional quality, lightweight, billet lower (or a matched billet receiver set) for your next build or to upgrade an existing one, I would 100% recommend that you check out the V Seven Weapon Systems line of Enlightened lower receivers and matched receiver sets.