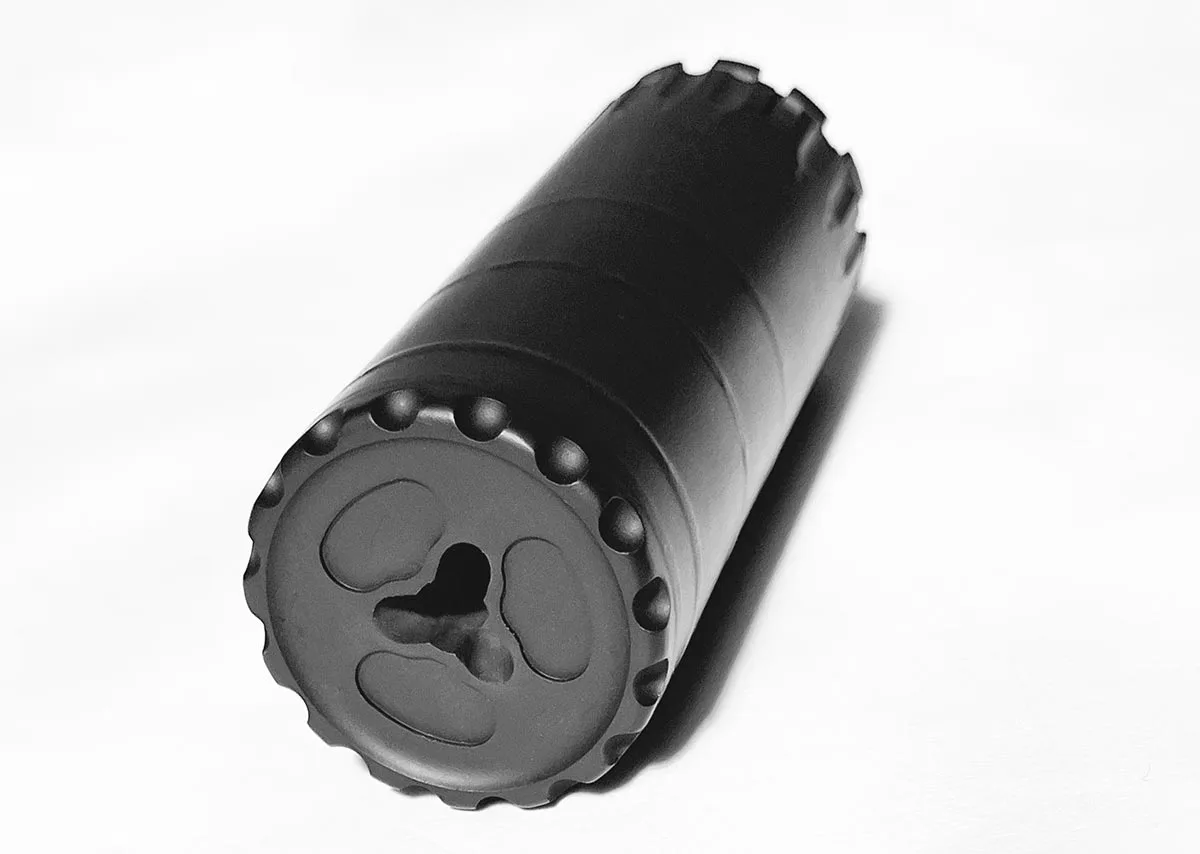 Near the end of 2019, Yankee Hill Machine (YHM) introduced an updated version of their very popular Turbo K, a short, dedicated 5.56 NATO suppressor. The latest version designated as the Turbo K (v2), adds an integrated notched rim end cap and a tri-port muzzle. The tri-port muzzle is supposed to reduce flash signature.
Features of the YHM Turbo K (v2) Suppressor
Integrated notched rim and tri-port muzzle on the end cap for flash suppression
1-3/8″x24 threaded mount making it compatible with mounting systems from other manufacturers such as the SilencerCo ASR and Dead Air Key-Mo
Tubeless design made from heat treated 17-4 stainless steel
3 baffles (2 heat treated 17-4 stainless steel baffles plus 1 heat treated 718 Inconel blast baffle)
Full-auto rating
Phantom QD adapter
Minimum barrel length of 10"
YHM Turbo K Specs
Weight: 8.83 oz (without the Phantom QD Adapter which itself weighs 2.75 oz)
Diameter: 1.5625″
Length: 4.75″ (5.5″ with Phantom QD Adapter)
Mount: 1 3/8″-24 Adaptable Interface
Decibel Rating: 138 dB
What's Included with the YHM Turbo K
The YHM Turbo K ships with:
1 Phantom QD adapter
2 suppressor wrenches
1 YHM-5M2 QD muzzle brake (or flash hider)
Barrel shims
Owner's manual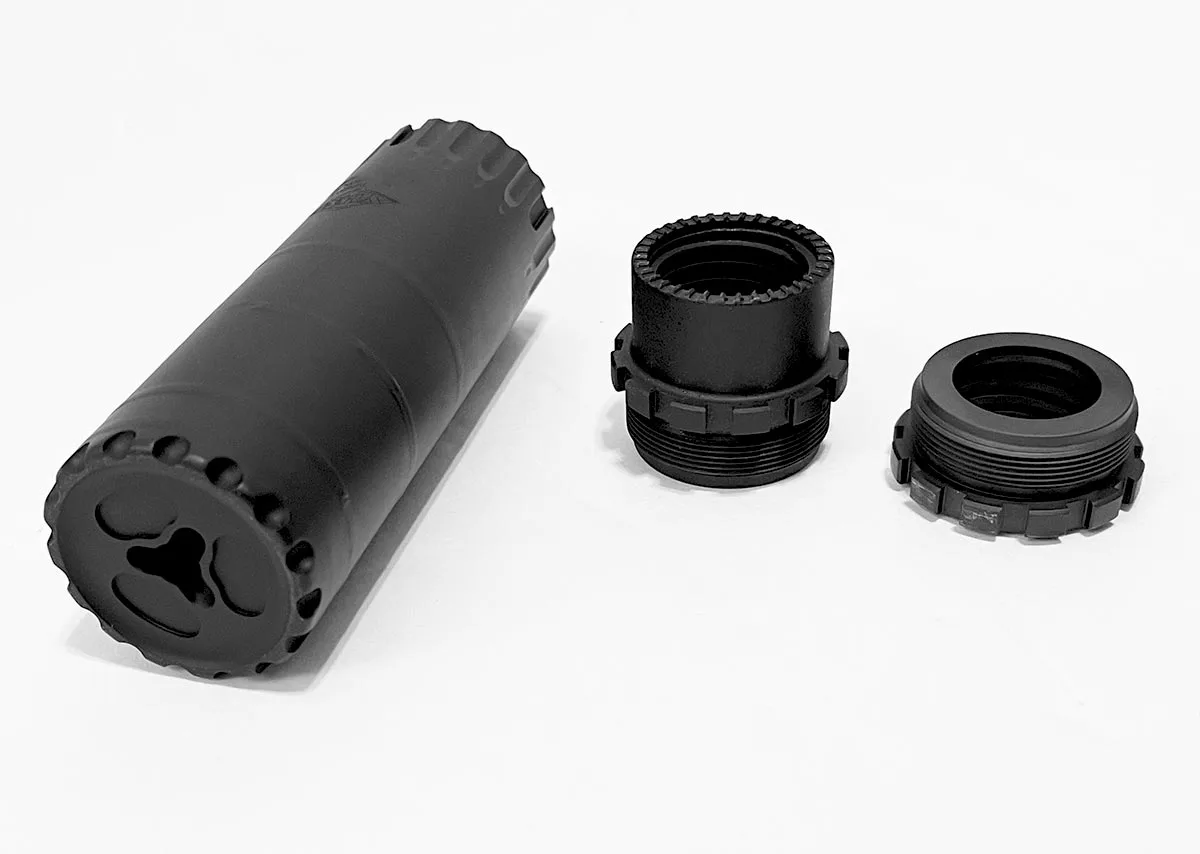 Pricing
MSRP for the YHM Turbo K suppressor is $534, but the street price can be as low as $330 at Capitol Armory when you choose the option that removes the muzzle device and standard QD adapter from your purchase…this makes sense when you are planning to buy a shorter and lighter Kurz QD adapter and mini Phantom muzzle brake.
General Impressions
When I first held the YHM Turbo K, I was really amazed how short and light it was, especially when you attach a Titanium YHM Kurz QD adapter…more on that later.
The Turbo K is a tubeless design that has an integrated tri-port muzzle on the end cap to help mitigate muzzle flash.
How Many Baffles Does the YHM Turbo K Have?
The YHM Turbo K has a total of 3 baffles (2 heat treated 17-4 stainless steel baffles plus 1 heat treated 718 Inconel blast baffle).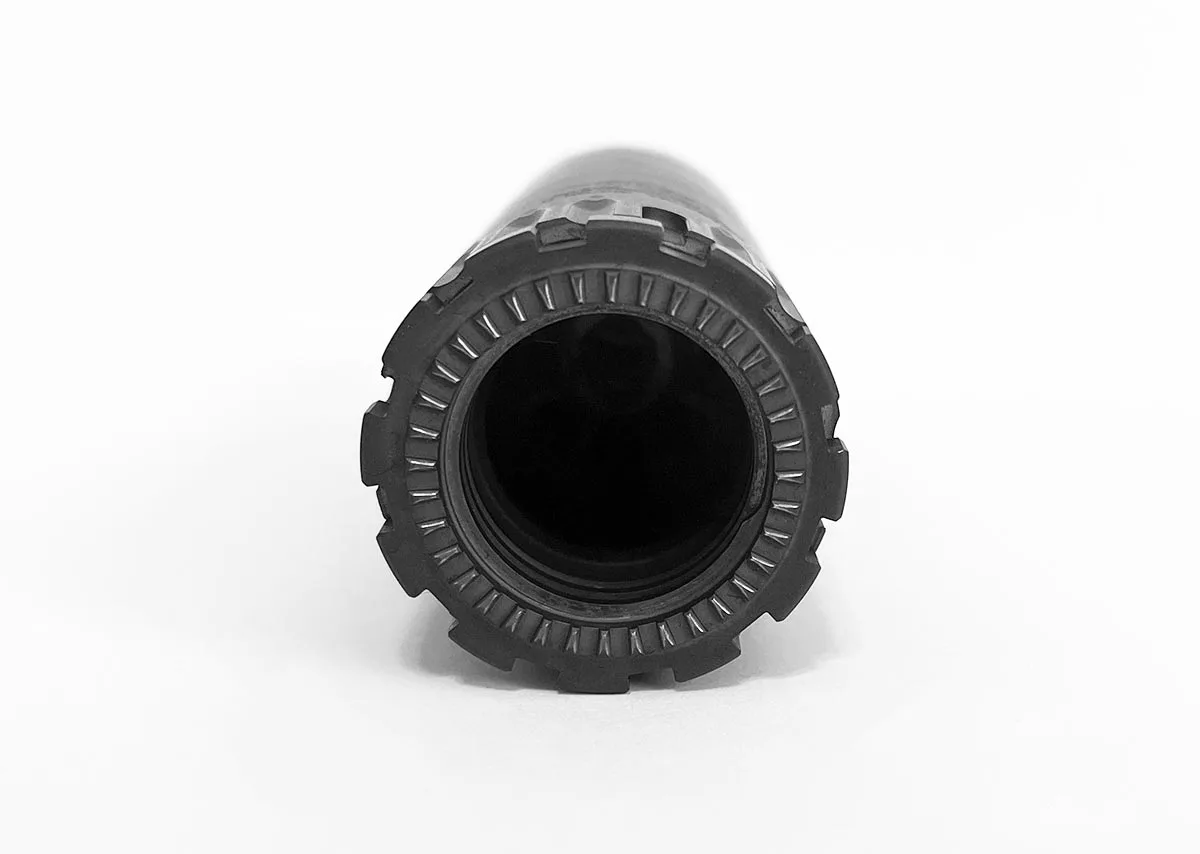 Buy the YHM Kurz QD Adapter to Make Your Turbo K Shorter and Lighter
Even though the YHM Turbo K comes with their standard sized QD adapter, I didn't like the extra length and weight it added to the Turbo K, plus I thought it looked a little goofy because it has a smaller diameter than the suppressor itself.
Therefore, I purchased their titanium Kurz QD adapter (weighs about 1.125 oz) that shortens the Turbo K to an approximate overall length of just 4.75" and gives it a total overall weight of about 9.875 oz according to my scale. That is incredibly short and light for a 5.56 suppressor!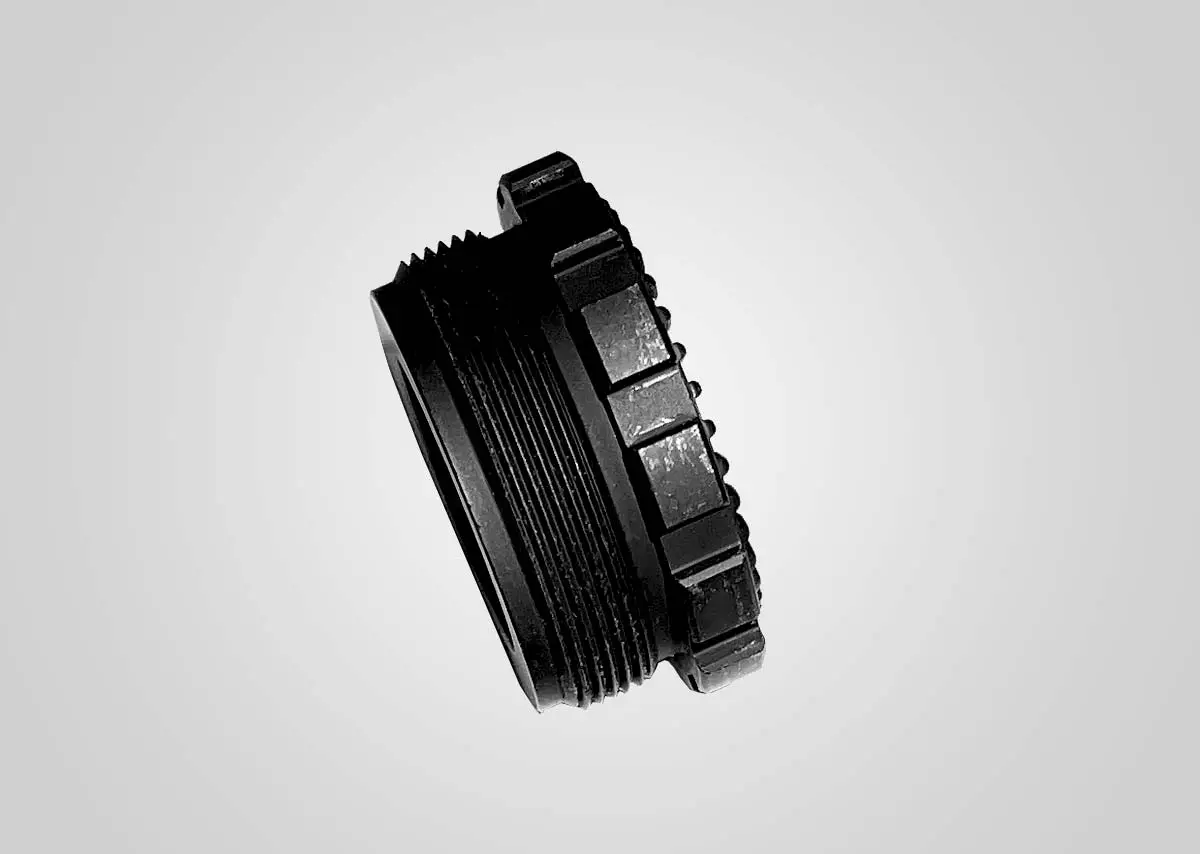 YHM Turbo vs Surefire SOCOM556 Mini2
How does the YHM Turbo K compare to the Surefire SOCOM556 Mini2 Suppressor?
The Surefire SOCOM556 Mini2 has an overall length of 5" and weight of 15 oz. This is about .25″ longer and 5 oz heavier than my YHM Turbo K equipped with a titanium Kurz QD adapter (9.875 oz). As mentioned earlier, the YHM Turbo K with a titanium Kurz QD adapter weighs just 9.875 oz.
The Surefire Mini2 also costs more than double that of a YHM Turbo K, meaning that you could buy two Turbo K suppressors (at $330 each without QD mount and muzzle device from Capitol Armory) or one Turbo K and one Turbo T2 for less than what you would pay for just one Surefire SOCOM556 Mini2 Suppressor. Obviously, Surefire makes great suppressors, but for most of us, the economics and performance of YHM suppressors make them hard to resist.
The titanium Kurz QD adapter (street price of about $90) weighs approximately 1.125 oz, thus saving about .875 oz over the steel Kurz QD adapter. I suggest getting the YHM Phantom single port, mini brake to use with the Kurz QD adapter because it weighs about .625 oz less than the standard YHM Phantom QD muzzle brake.
When using the steel Kurz QD adapter with the YHM Turbo K, the total overall weight is only about 10.75 oz.
If you are going all out to save weight on your entire rifle, pistol or SBR, you could always use the direct thread mount, which saves about 3.2 oz by eliminating the use of the Mini QD Phantom muzzle brake, or 3.875 oz when not using the standard QD Phantom muzzle brake.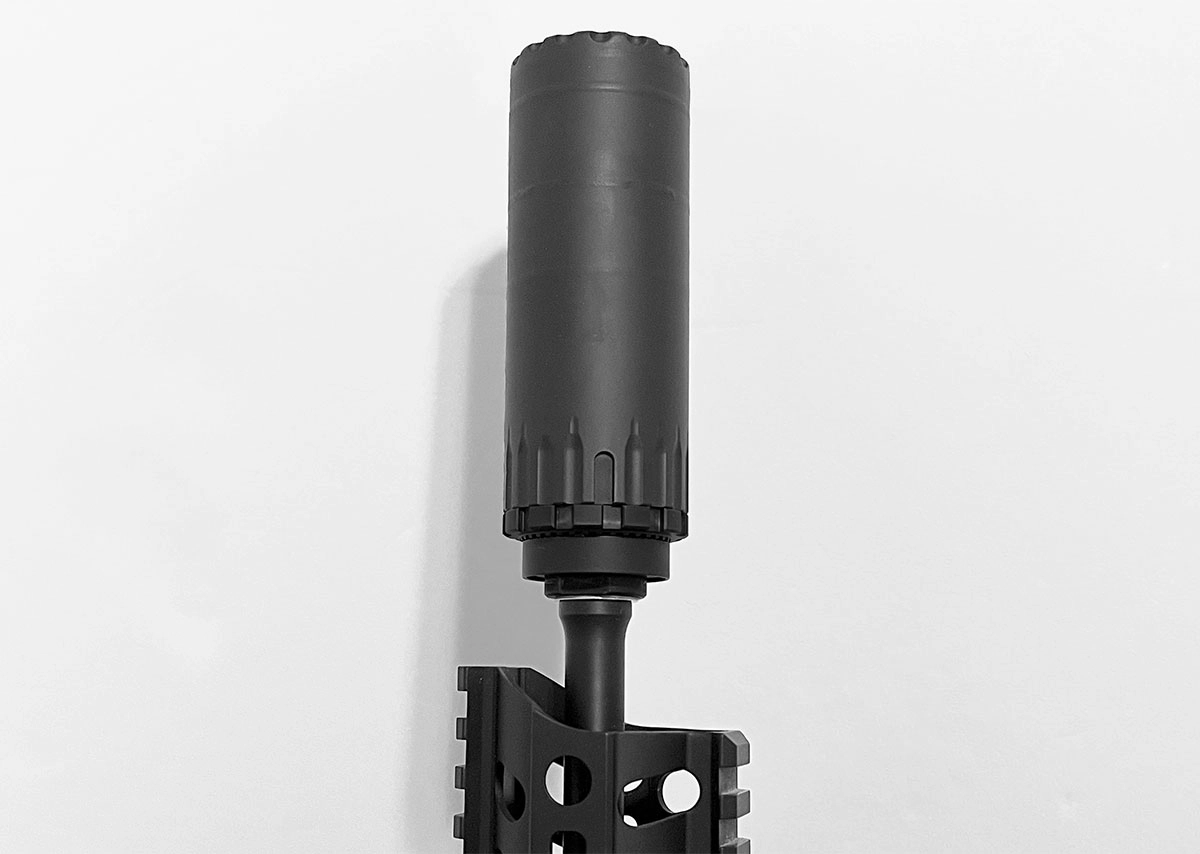 YHM sRx Low Profile QD Adapter
YHM recently released a new suppressor QD mounting system which consists of the sRx low profile qd adapter made from 17-4 PH Stainless Steel (they don't make a Titanium version yet) and a line of sRx compatible muzzle devices. That said, the sRx low profile QD adapter is NOT compatible with the original Turbo, nor is it compatible with the Phantom muzzle brakes and flash hiders. Therefore, it is necessary to use a compatible muzzle device such as their sRx QD mini muzzle brake, the full size sRx QD muzzle brake or the sRx QD flash hider.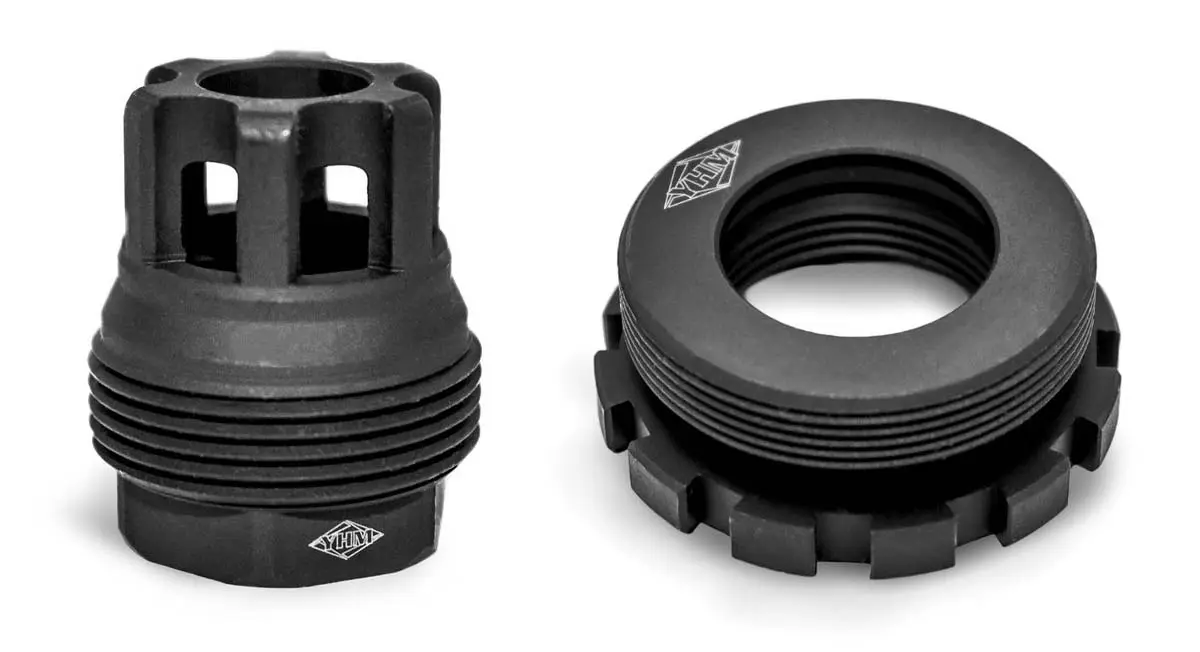 How Quiet is the YHM Turbo K?
According to YHM, the Turbo K (with the standard Phantom QD adapter) has an average sound pressure level of about 138 dB on a 16" AR-15 using 55 gr ammo. Therefore, the Turbo K is just below the hearing safe threshold of 140 dB. Clearly, on barrels shorter than 16 inches, the average sound pressure level would be higher. Consider this as a point of reference. A typical unsuppressed 9mm pistol (handgun) is roughly 160 DB. Even on a shorter barreled 5.56 host, the YHM Turbo K should be much quieter than 160 dB, which is readily evident when you are at an indoor range along side others shooting unsuppressed 9mm pistols.
Is the YHM Turbo K Hearing Safe?
As I have said before in other reviews, I believe that no suppressor is safe to shoot without ear pro. That said, I always double up on ear pro, even when shooting suppressed. Below is a chart from the American Suppressor Association that can help put exposure to sounds in perspective.
YHM Phantom QD System, How it Works and Is It Any Good?
YHM's Phantom QD muzzle brakes and flash hiders, utilize a set of coarse threads with a tapered shoulder preceding it. The Phantom QD muzzle devices also have a spring loaded steel "collar" with four "teeth" that are used as a secondary locking mechanism. The Phantom QD Adapter has a series of teeth along it's opening which must be ratcheted down against the opposing four teeth on the Phantom QD muzzle brake or flash hider.
I like the the YHM Phantom QD system because it is easy to use, locks up solid and has never resulted in a baffle strike. That said, there are some Phantom QD adapters and Phantom QD muzzle devices that do not lock up with ideal teeth alignment. As such, you may end up buying additional muzzle devices or QD adapters to get the right combination that locks up perfectly.
What About Carbon Lock?
I only had one of my YHM suppressors (the original Turbo) get carbon locked. It was no big deal since I was able to easily remove that suppressor using a spanner wrench.
Tips on Attaching the YHM Turbo K
When attaching a YHM suppressor that utilizes the Phantom QD system, YHM suggests that you use a quick snapping twisting motion to ratchet down their suppressors rather than slowly doing so.
If you go to 1:29 (you may need to turn your phone sideways to see the time) in the video below, you can see how to properly ratchet down your YHM suppressor.
At the Range
After shooting about 240 rounds of M193 (55 grain 5.56 NATO), through a 16" barrel at an indoor range, the YHM Turbo K's ability to suppress sound was very good (despite its incredibly small size) and completely eliminated concussion while significantly reducing flash signature.
More Gas to the Eyes
When shooting the Turbo K, it may be a good idea to use both an adjustable gas block (or adjustable bolt carrier group) and a gas busting charging handle, such as the Griffin Armament SN-ACH. That is because the Turbo K, like many other traditional baffle stack suppressors, will send more gas to the eyes, due to the additional back pressure.
You may also want to use electrical tape to cover up the gaps where the upper and lower receivers meet, including directly below the charging handle.
YHM Turbo K vs YHM Turbo T2
I have both the original, Gen 1 Turbo and the Gen 2 Turbo T2 with a Kurz QD adapter. Both sound approximately the same to me, in terms of tone and sound suppression. The original Turbo and Turbo T2 also have 3 baffles, plus an Inconel blast baffle.
The Turbo K has 2 baffles, plus an Inconel blast baffle, and to me, it sounds slightly louder than the original Turbo and the Turbo T2, but still much quieter than an unsuppressed 9mm pistol. Regardless, I always double up on ear pro.
The Turbo K (4.75″ with a Kurz QD adapter) is about 1″ shorter than the Turbo T2 (5.75″ with a Kurz QD adapter). My Turbo K (with a Titanium Kurz QD adapter) is also about 3 oz lighter than my Turbo T2 (with a Steel Kurz QD adapter), according to my scale. I could definitely feel that 3 oz difference in weight at the end of a 16″ barrel when using the YHM Turbo K (9.875 oz with Ti Kurz adapter) vs the Turbo T2 (12.875 oz with steel Kurz adapter).
At the end of the day, the Turbo K suppresses sound well enough for my purposes, that I prefer the Turbo K over the Turbo T2 because it is shorter and lighter.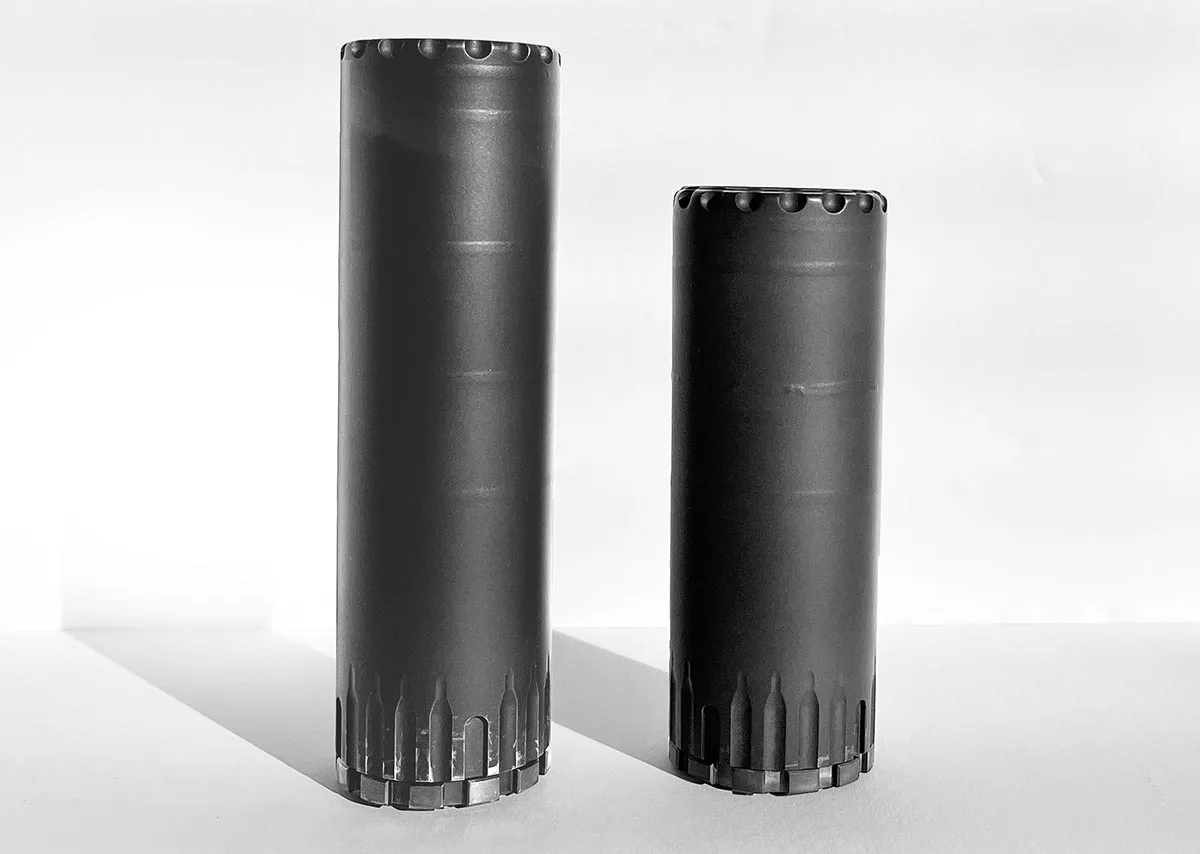 Turbo K (v2) Replacement
I have recently noticed that YHM no longer shows the Turbo K (nor the Turbo T2) as a current product offering in the store of their website.
From what I have heard, YHM should be replacing the Turbo K (v2) with a 3rd generation version, the Turbo K-RB, which should have the same reduced back pressure, baffle geometry found in their new Turbo T3. If you go to YHM's website store, you will see that the Turbo K and Turbo T2 are now categorized as their "Legacy" suppressors, which YHM describes as "A collection of YHM's past catalog of Silencers and Sound Suppression Systems".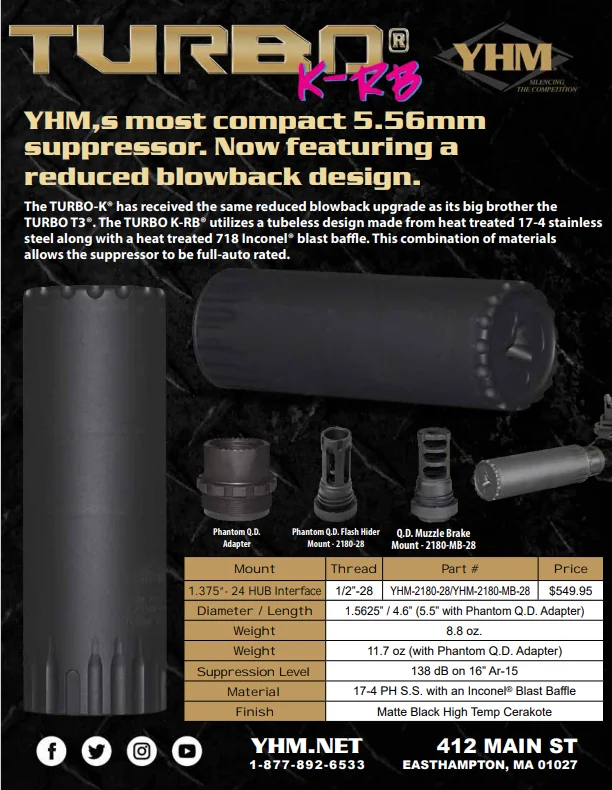 I am guessing the YHM Turbo K (v2) will continue to be available from retailers until their inventory is sold out. If you still want to order a Turbo K (v2), there may still be some available with muzzle brake or flash hider options at Modern Warriors for around $375, once you add it to their cart. Obviously, this is subject to change.
Is the Turbo K Your First Suppressor?
If the YHM Turbo K is your first suppressor, you may want to consider getting a heat resistant suppressor pouch and heat resistant gloves.
To read mounting tips and other useful information for first time suppressor users, I recommend that you read our review of the original YHM Turbo here.
Final Thoughts
The YHM Turbo K is an extremely popular choice for many shooters interested in a dedicated 5.56 NATO suppressor. That is because of its ridiculously affordable price (I have seen it as low as $330 when it is purchased without the muzzle device and standard QD adapter at Capitol Armory), its many great features such as its 1 3/8 x 24 threaded rear mount, surprisingly good sound suppression, muzzle flash reduction, its light weight and its short overall length.
So, if you are looking for a super short, lightweight K-sized 5.56 NATO "can" that suppresses well and doesn't break the bank, I don't think you can find a better K-sized 5.56 NATO suppressor for the money.