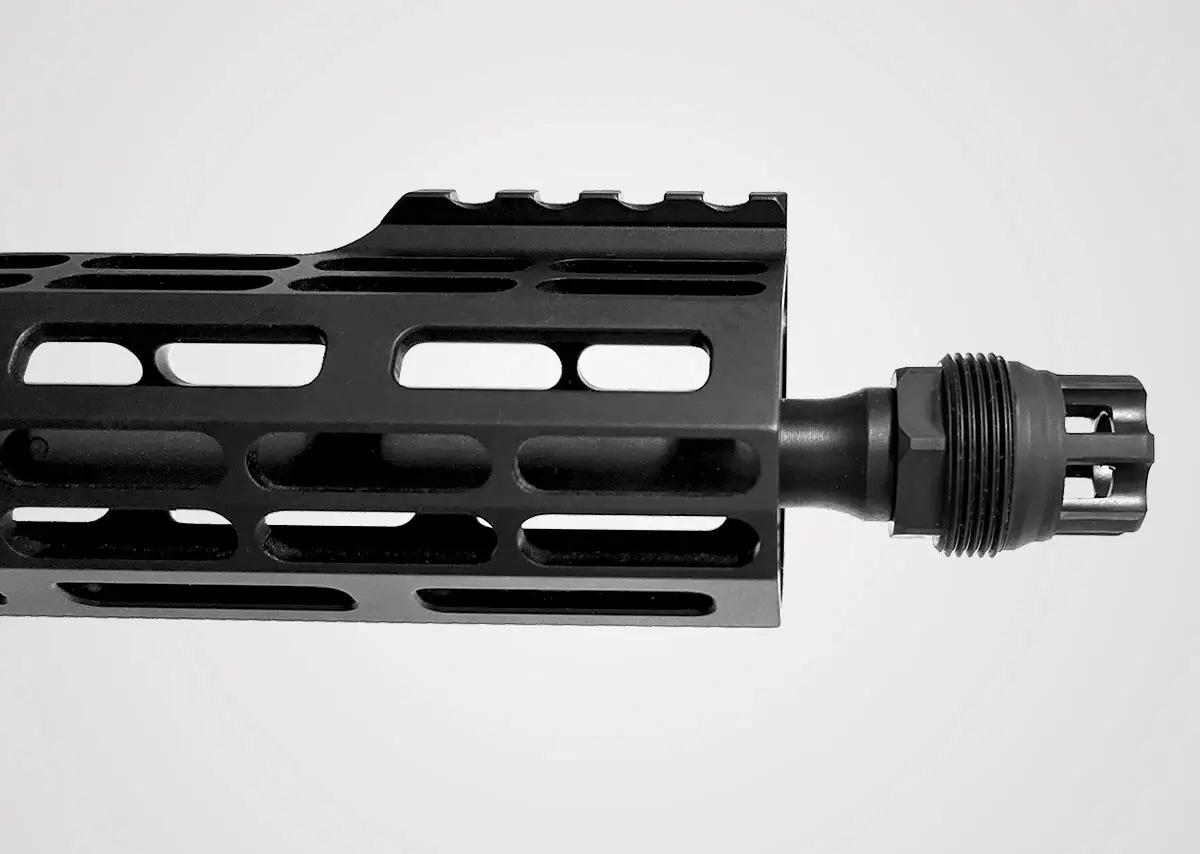 In December of 2022, Yankee Hill Machine (YHM) announced the release of their new sRx QD mounting system. This includes the following products:
sRx™ QD Adapter (YHM-4400)
sRx™ Short Flash Hiders (YHM-4445-24)
sRx™ Flash Hider (YHM-4405)
sRx™ Muzzle Brake (YHM-4405-MB)
sRx™ Short Muzzle Brake (YHM-4445-MB-24)
sRx™ Mini Muzzle Brake (YHM-4401-MB)
I recently picked up the sRx QD Adapter (mounted to my YHM Turbo K v2) and the sRx Mini Muzzle Brake, 1/2 x 28 (mounted the 16″ Faxon pencil barrel of my lightweight AR build).
sRx Mini Muzzle Brake Features
No need to time to barrel (no shims required)
Reduced size and weight compared to Phantom QD brakes
No moving parts
Taper seal to reliably lock suppressor on
Can be pinned and welded to barrel if desired
sRx Mini Muzzle Brake Specs
Length: 1.100″
Diameter: .9375″
Weight: 1.375 oz (according to my scale)
Made from: 4140 Steel
Finish: Black Phosphate
Available Sizes: 1/2 x 28 and 5/8 x 24
sRx Mini Muzzle Brake Pricing
MSRP is $82.95, but I bought mine for $55 from Lanbo's Armory, when you add it to the cart. If you go to the Lambo's Armory website, yes, it looks quite old, but it works fine and they are legit.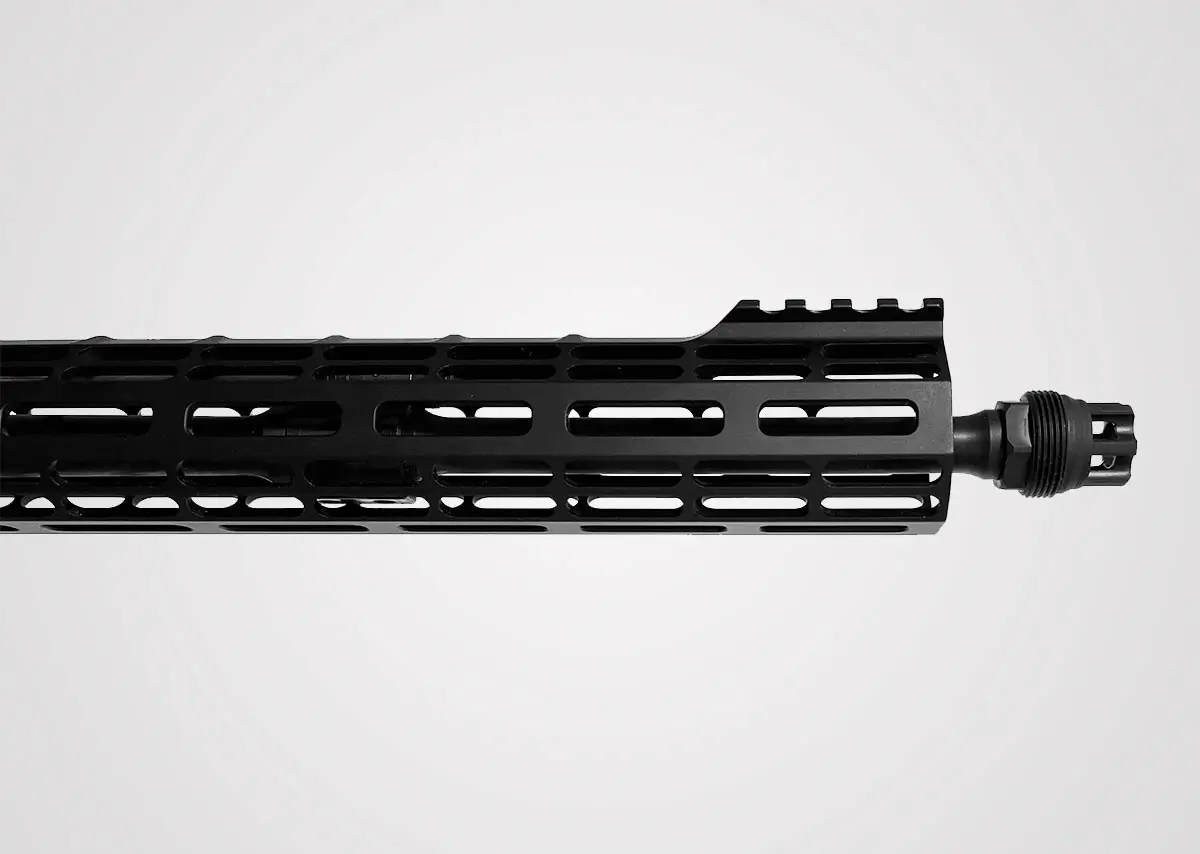 sRx QD Adapter Features
Low profile design and lightweight
Q.D. Adapter/Mounting Interface
Uses the industry standard (HUB) 1-3/8" x 24 threads
Internal taper seal to reliably lock suppressor in
sRx QD Adapter Specs
Length Added to Suppressor: .200″
Overall Length: .600″
Diameter: 1.563″
Weight: 1.875 oz (according to my scale)
Made from: 17-4 PH Stainless Steel
Finish: Black Oxide
Caliber(s): 9mm (.390 diameter) or smaller
sRx QD Adapter Pricing
MSRP is $82.95, but I bought mine for $55 from Lanbo's Armory, when you add it to the cart.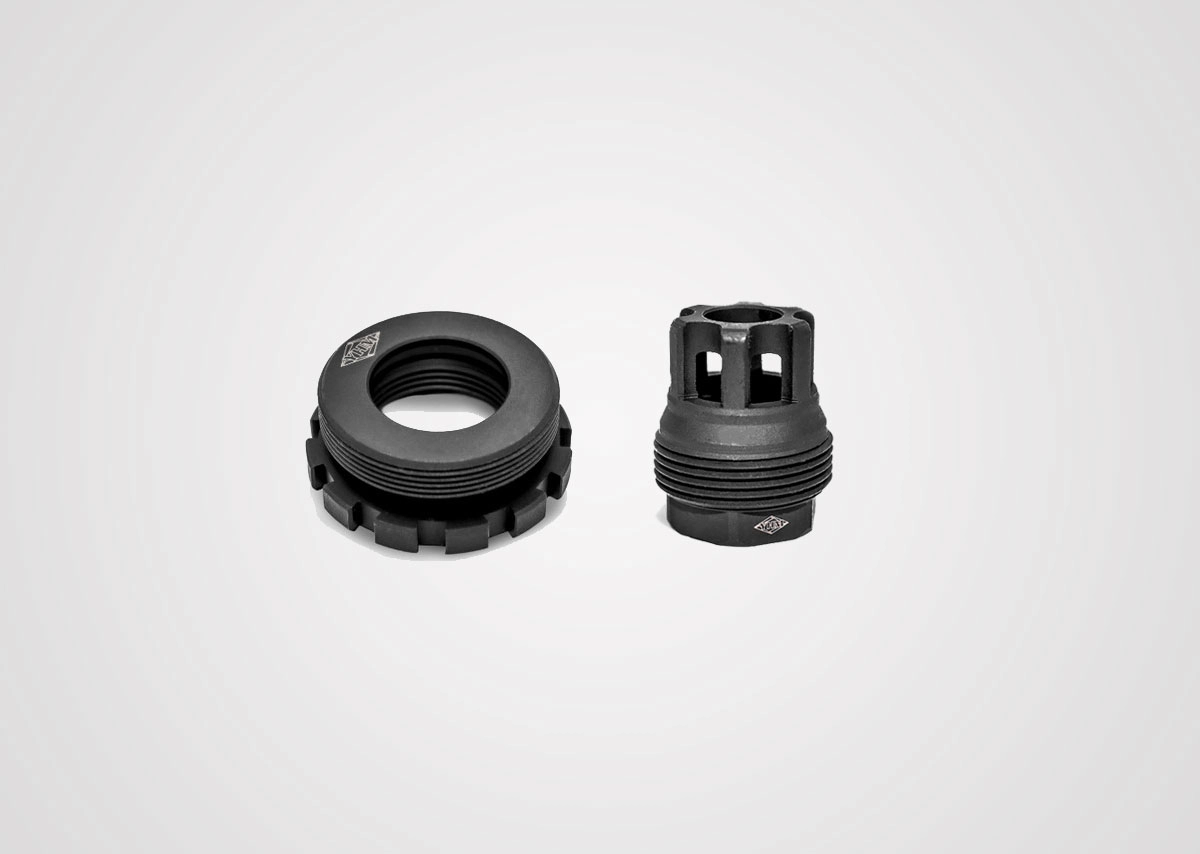 General Impressions
The sRx QD Adapter
The sRx QD adapter is about the same size and weight as the YHM Kurz adapter (2 oz). However, the male threads that go into the suppressor extend slightly further forward than on the Kurz adapter.
Why might this matter?
When I removed the Kurz from one of my YHM suppressors, there was some carbon build up covering the forward most female threads inside the suppressor. This carbon buildup made it impossible to thread the sRx adapter completely into the suppressor (at least not without damaging the threads on the sRx adapter). Therefore, I would either have to remove the carbon or use a different YHM suppressor that does not have as much carbon build up on the end of those threads. Fortunately, I was able to use one of my other YHM suppressors (Turbo K).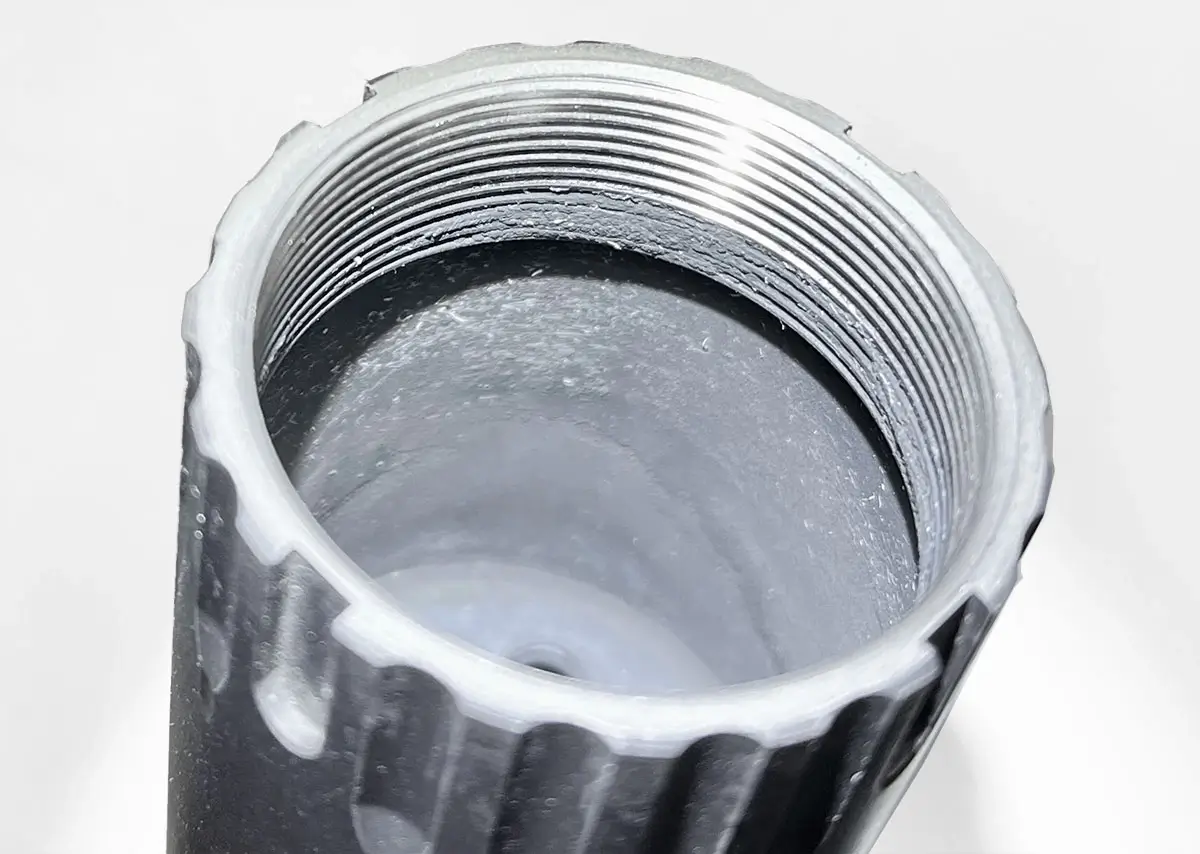 The sRx Mini Muzzle Brake
When I first opened the packaging of the sRx mini muzzle brake, I was really surprised by its extremely small size, especially compared to my YHM Phantom mini brakes. At 1.375 oz, the sRx mini muzzle brake is also significantly lighter than the YHM Phantom mini brake, which weighs about 3.2 oz. The standard Phantom QD muzzle brake weighs even more, coming in at 3.875 oz. And, unlike the Phantom QD muzzle brakes, the sRx muzzle brakes do not need to be timed..no more shims!
Of course, the YHM sRx QD system is NOT compatible with the YHM Phantom QD system.
At the Range
According to YHM, you only need to hand tighten your suppressor (rotating it clockwise) when attaching it to your host using the sRx QD system.
After using YHM's Phantom QD system over the years, I was a little worried that my Turbo K would walk off without the Phantom's ratcheting mechanism. That said, after shooting about 220 rounds of 5.56 NATO, 55 gr FMJ, my YHM Turbo K with the sRx QD adapter, stayed on tight. The YHM sRx QD system makes attaching and removing my Turbo K suppressor very easy. By the way, it may be best to wait for your suppressor to cool down a bit before you try to remove it, otherwise, you might need to use a spanner wrench.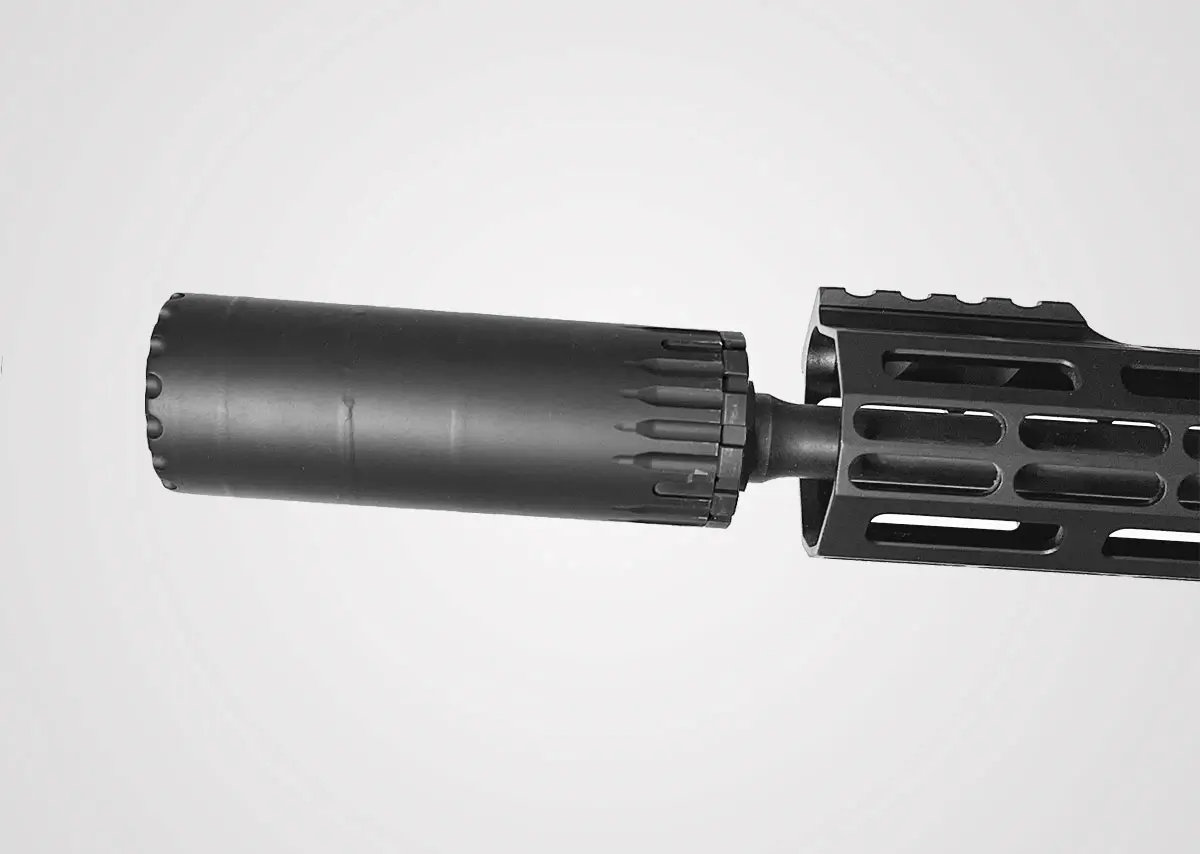 Final Thoughts
Is it worth getting the sRx QD Adapter and sRx Mini Muzzle Brake?
I think so. Even if you are already invested in the Phantom QD system, the sRx adapter and mini muzzle brake are not only much smaller, lighter and simpler (no springs, shims or moving parts), but less expensive as well.
I am really glad I bought the sRx QD adapter (1.875 oz) and sRx mini brake (1.375 oz). It definitely does save some weight off the front end of my rifle, especially compared to a standard Phantom QD adapter (2.75 oz) and a full size Phantom QD brake (3.875 oz) setup. The sRx QD system could end up saving you about 3.375 oz over the standard Phantom QD system.
The YHM sRx QD system also reduces overall length (by eliminating the need for a spring-loaded collar found on the Phantom muzzle devices) and looks much better too.
Perhaps best of all, you may be able to buy the sRx QD adapter for just $55 and the sRx mini muzzle brake for $55, if you go to Lanbo's Armory. Be sure to add these items to your cart to get the lowest pricing.