Apex Tactical Specialties is perhaps best known for its outstanding line of drop-in, pistol trigger kits, particularly for Smith & Wesson M&Ps and Glocks.
Apex began manufacturing drop-in trigger kits for the M&P line of pistols in 2009. It had since expanded its trigger kit offerings to include Glock and Springfield Armory, FN, Sig Sauer, Ruger, CZ and Walther.
In this article, we discuss and review the Apex Flat-Faced Forward Set Trigger Kit for the Smith & Wesson M&P 2.0 line of striker fired pistols.
Features of the Apex Flat-Faced Forward Set Trigger Kit
Ability to set the trigger pull weight to anywhere from approximately 4 lbs to 6 lbs.
Center mounted trigger pivot safety system similar to Glock and many other popular brands.
Aluminum (you can also get it in polymer) flat faced trigger
Significant reduction in overall trigger travel
Crisp trigger break
Short, tactile reset
Reduced pre-travel and over-travel
Choice of finish: black; red; FDE; Thin Blue line and Freedom editions for each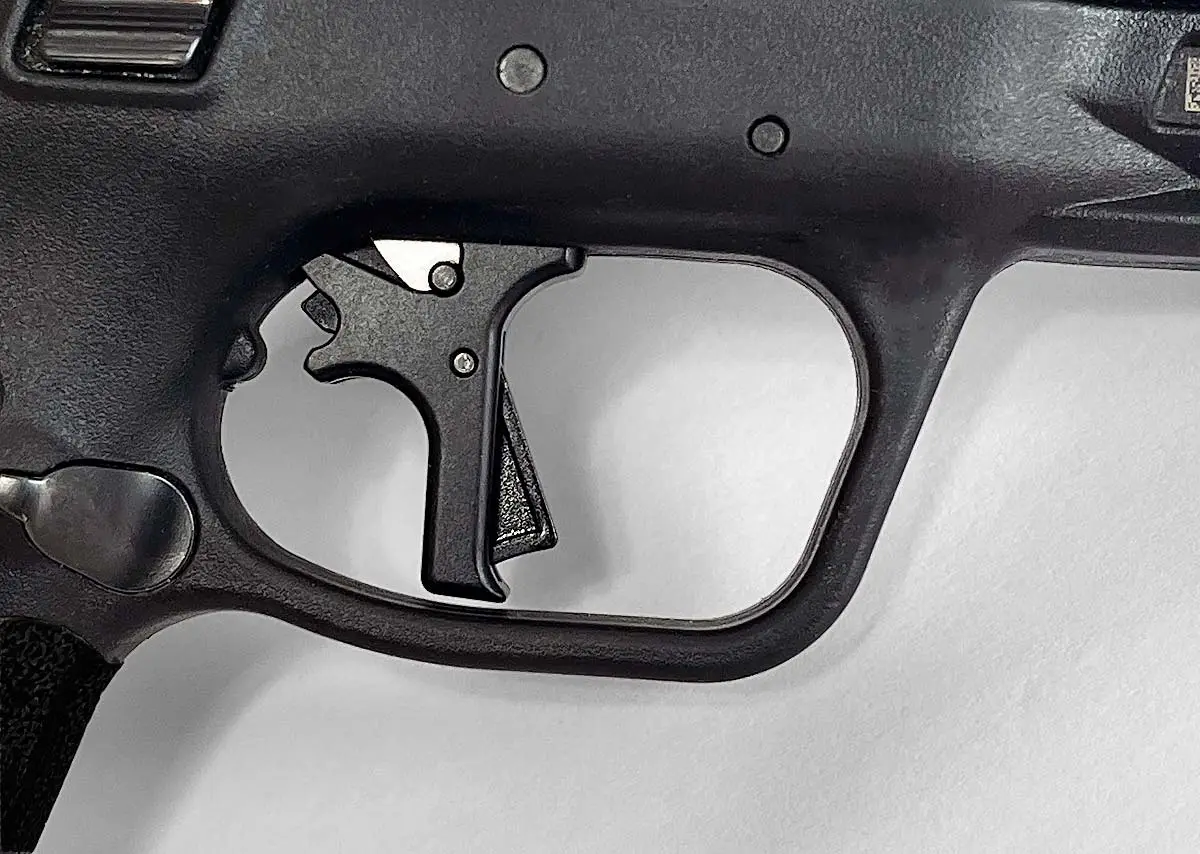 What's Included with the Apex Flat-Faced Forward Set Trigger Kit
Aluminum Flat-Faced Forward Set Trigger
Forward Set Sear Actuator
2-Dot Fully Machined Sear
Heavy Duty Sear Spring
Duty/Carry Sear Spring
Heavy Duty Trigger Return Spring
Duty/Carry Trigger Return Spring
Ultimate Striker Block
Striker Block Spring
Apex Sight Tool
Slave Pin
Pricing
MSRP is $180 for finishes in Black and the Thin Blue Line. Red and FDE is $190. Freedom Edition is $195. Street price is about $10 less.
At the Range
Having put about 100 rounds down range, my initial impression is that I definitely prefer the Apex aluminum, flat-faced trigger over the M&P's original plastic, hinged trigger. It not only feels more precise, but the Apex trigger also has a noticeably smoother take-up, with far less travel, a much shorter reset and a lighter trigger pull weight of about 4.3 lbs. The Apex trigger also breaks farther forward than on the OEM trigger.  Not surprisingly, I found that my accuracy has improved with the Apex trigger.
Final Thoughts
For the reasons mentioned above, I really like the Apex Flat-Faced Forward Set Trigger Kit and think it is well worth the money. If you'd prefer a flat-faced trigger, with a more commonly used, center mounted trigger pivot safety system that has less take up, a crisp break and short reset, while reducing the pull weight, you may want to consider the Apex Flat-Faced Forward Set Trigger Kit.