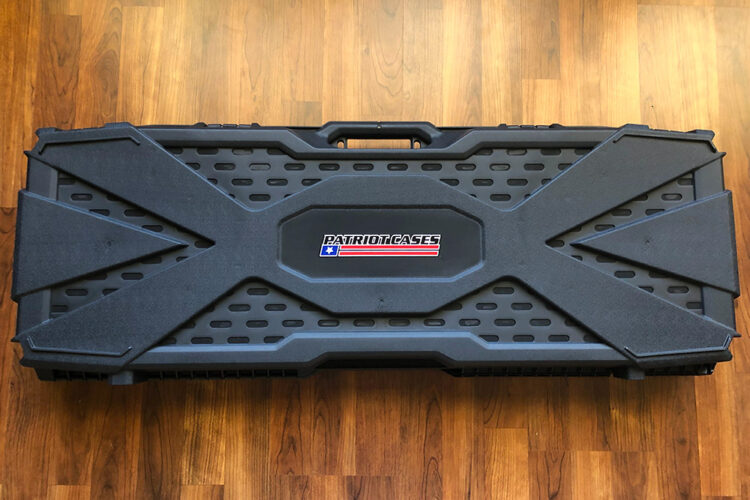 Having just purchased the new Sig Sauer MPX PCC, I wanted to get a hard plastic case to protect it from getting knocked around to and from the range. However, having just spent what for me is a small fortune on my MPX, I wanted to spend less than $100 on a case. After much research, I ended up purchasing an Economy AR Case with Pre-Cut HDPE Mil-std Foam from Patriot Cases because at just $59 plus shipping ($19 for Fedex Ground), it was hard to pass up.
Now, I know that the Sig MPX PCC is not an AR, but it's certainly similar enough in overall form factor to fit into the Economy AR case.
So, I ordered my Patriot Economy AR Case through their website and a few days later, received it via Fed Ex Ground.
Features of the Patriot Economy AR Case
Mil-spec high density 2.2 lb polyethylene foam that is impervious to cleaning oils/solvents and will not hold moisture
Pre-cut cavities that should accommodate most stock and barrel lengths up to 20″ long without muzzle device
Two layers of very HDPE foam in the bottom and a 2″ thick layer of dense convoluted foam in the lid
Six (6) molded holes for padlocks to secure the contents
ATA Specification 300 II rated
Injection molded for strength
4 wide latches for easy opening and closing
Perimeter pillars for added durability
Interior Dimensions
40″ Long x 13.75″ Wide x 4″ Deep
Exterior Dimensions
43″ Long × 17″ Wide × 6″ Deep
Weight
10 lbs
Price
$59
Modifications
While this case has very good quality foam inserts, I needed to make a few small modifications to the cutouts to accommodate my Sig MPX's lower receiver, grip and 30-round magazine. After just a few minutes of marking and cutting, I'm pleased to say that my MPX fits very nicely into this awesome case.
Final Thoughts
If you're looking for a truly affordable, good quality hard plastic case to protect your AR (or any other type of firearm for that matter), you may want to consider Patriot Cases. Patriot Cases also makes more expensive custom cases, but the Economy AR Case is more than sufficient for my needs and in my opinion, offers the best bang for the buck.
Here's a link to the Patriot Economy AR Case:
https://patriotcases.net/product/ar-case/
If you'd rather get a case with blank or "un-cut" foam so that you can do your own cutting for a more customized fit, Patriot Cases offers that option too for just $10 more (price of $69).
Here's a link to the Patriot Cases Economy AR/AK/SCAR Case- BLANK (un-cut) Foam:
https://patriotcases.net/product/ar-case-blank
Here's a photo of my new Patriot Case after making a few adjustments to the cutouts: