About 5 months ago, Sig Sauer announced the release of the MPX PCC redesigned with performance enhancements that cater to competitive PCC shooters. However, I believe the MPX PCC will also appeal to every day gun enthusiasts like me.
Yesterday, I was lucky enough to pick up a SIG MPX PCC from my local gun store. I had actually special ordered it three days earlier and was told that it might take 7-10 days to arrive. Fortunately, I did not have to wait that long!
MPX PCC Features
16" threaded barrel
3 chamber compensator designed to reduce recoil
Crisp, flat faced, single-stage Timney trigger
5-position telescoping and folding stock
Ambidextrous controls
Free-floating ergonomic Slim Line M-LOK™ handguard
Optics ready, black hard-coat anodized aluminum frame
Barrel twist rate of 1:10
Gas Piston Operating System
One, 30-round magazine
Specs
Overall Length: 35.25"
Overall Width: 2.5"
Height: 7.5"
Weight: 6.63 lbs
Price
MSRP is $2,016.00 but the street price seems to be $1,699.99 most everywhere I checked.
Having since taken my Sig MPX PCC to the range, here are my thoughts:
Reliability. The Sig MPX PCC is very reliable. After shooting 250 rounds of Magtech 115 grain 9mm FMJ, I experienced no failures whatsoever.
Trigger. The Timney, flat faced, single-stage trigger is crisp, lighter than that of the

MPX Carbine

and breaks cleanly with an audible and tactile reset. Pull weight is approximately 4.5 lbs.
Handling. The MPX PCC is about a pound lighter in overall weight than the MPX Carbine with very little recoil and low muzzle rise, making it easy and fun to shoot. I also find the new, slimmer M-LOK handguard to be quite comfortable.

Accuracy. I find the

MPX PCC

to be very accurate.
The MPX PCC is accurate, reliable and really fun (and cheap) to shoot.
Sig MPX PCC vs the Original Sig MPX Carbine
Compared to the original MPX Carbine, there are some noticeable differences.
The MPX PCC has a 16″ threaded barrel with a three-chamber compensator. In contrast, the MPX Carbine has a 14″ barrel with a pinned and welded flash hider bringing the overall barrel length to 16″ to avoid Federal classification as a Short Barrel Rifle (SBR).
The MPX PCC comes with a telescoping AND folding stock whereas the stock on the MPX Carbine is only telescoping.
The MPX PCC has a slim M-LOK

handguard

vs the KeyMod handguard on the MPX Carbine.
The MPX PCC has a flat faced, Timney trigger (according to Timney, pull weight is 4.5 lbs and is the same trigger, model #683, they sell as a drop in replacement for the MPX carbine), which in my opinion, is much nicer than the heavier trigger on the MPX Carbine.
The MPX PCC is slightly longer with an overall length of 35.25″ vs 33″ for the MPX Carbine.
The MPX PCC weighs approximately 1 pound less than the MPX Carbine.
I believe that many gun enthusiasts will appreciate the performance enhancements and build quality of the new Sig MPX PCC. The MPX PCC is accurate, reliable and really fun (and cheap) to shoot. Is the new Sig MPX PCC worth the street price of $1,699? For me, that's a definitive YES.
For more information about the Sig MPX PCC, visit Sig Sauer's website here.
Looking for a good red dot sight for under $150 (and offers a lifetime warranty)?
Check out the Vortex Crossfire Red Dot sight which you should be able to find at your local gun store or online (Amazon, MidwayUSA, etc.) for roughly $130-$160 (street price). Here's a link to Vortex's website: https://vortexoptics.com/vortex-crossfire-2-moa-red-dot.html
Sig MPX PCC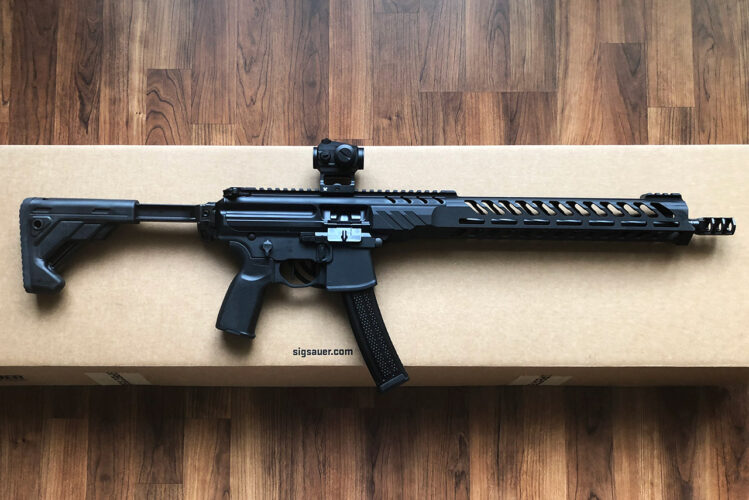 Shown here with a Vortex Crossfire Red Dot Sight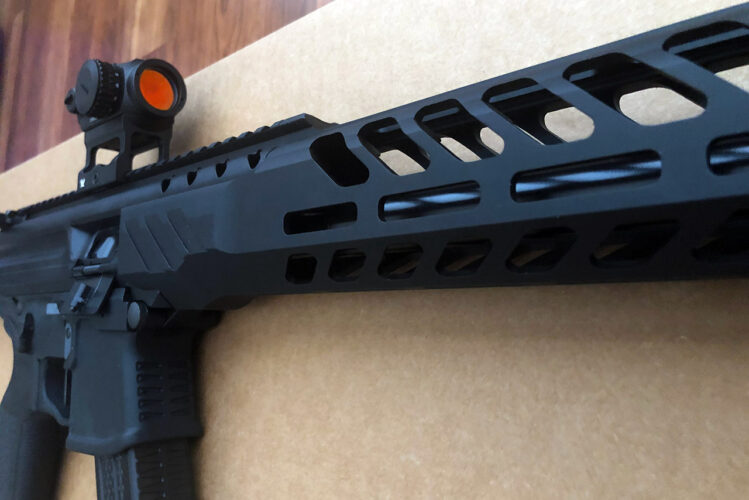 Flat Faced, Timney Single-Stage Trigger