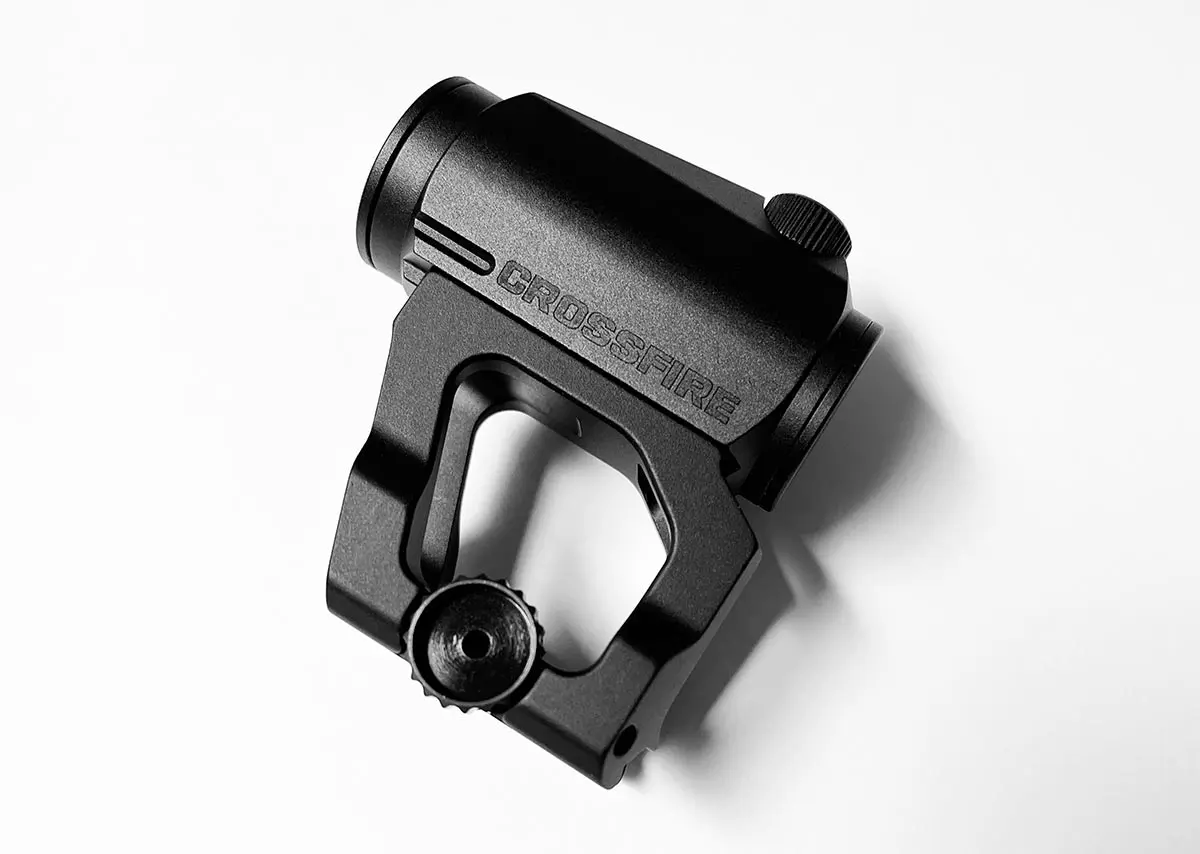 Vortex Optics was founded in 2004 and has since gained a well-earned reputation for building good quality optics for use in hunting, home defense, shooting sports and law enforcement.
When it comes to more budget friendly red dot sights, the Vortex Crossfire is a popular choice. After all, not everyone can afford (or feels the need) to spend more than $150 on a red dot sight.
For 2020, Vortex updated the Crossfire CF-RD2 (Gen 2) to significantly improve battery life and offer 2 night vision compatible settings.
Features of the Vortex Crossfire (Gen 2)
Unlimited eye relief
Parallax free
Compact and lightweight
Up to a 50,000 hour battery life on setting 6
Night-vision compatibility at the lowest two settings
Waterproof
Multi-coated lens
Housing made from aluminum
Low-glare matte black anodized finish
VIP Warranty: an Unlimited, Unconditional, Lifetime Warranty
Vortex Crossfire Specs (Gen 2)
11 Levels of brightness settings
1x magnification
Objective lens diameter 22mm
2 MOA dot size
1 MOA adjustment graduation
100 MOA max elevation adjustment
100 MOA max windage adjustment
Length is 2.5"
Weight is approximately 5.2 oz including the lower 1/3 co-witness mount
What's Included with the Vortex Crossfire (Gen 2)
Skeletonized lower 1/3 co-witness mount
Low height mount
Removable rubber lens cover
CR2032 battery
Lens cloth
T-10 Torx wrench
Pricing
MSRP is $219.99, but the street price is about $150.
At the Range
The Vortex Crossfire was spot on accurate and did not lose zero. I'm also happy to report that the Skeletonized lower 1/3 co-witness mount's cross bolt Torx screw did not loosen once it was attached to the rail. This is something I can't say about my experience with the Holosun AEMS or 510C, which required use of a non-permanent threadlocker on the Torx screw cross bolt.
Adjusting elevation and windage was easy using the included plastic "turret caps" which have a raised bar that can be used to make those adjustments.
To turn on the Crossfire, you'll need to turn the brightness setting knob forward to any setting greater than "0". To shut it off, you'll need to return the knob back to the "0" setting.
VIP Warranty
Perhaps one the most important and unique features of any product from Vortex Optics is their VIP Warranty. According to their website, the VIP Warranty is an UNLIMITED LIFETIME WARRANTY that is FULLY TRANSFERABLE with NO RECEIPT NEEDED. However, Vortex does state "The VIP Warranty does not cover loss, theft, deliberate damage or cosmetic damage that does not hinder the performance of the product."
Final Thoughts
The Gen 2, Vortex Crossfire red dot sight is a solid, quality, budget priced "micro" red dot sight from a brand that has a long-standing reputation for quality products at reasonable prices. Sure, you could buy other optics that cost a little less, but they may not offer the outstanding battery life and reliability of the Crossfire. I also don't think you'll find any other optics brand offering a better warranty than Vortex.