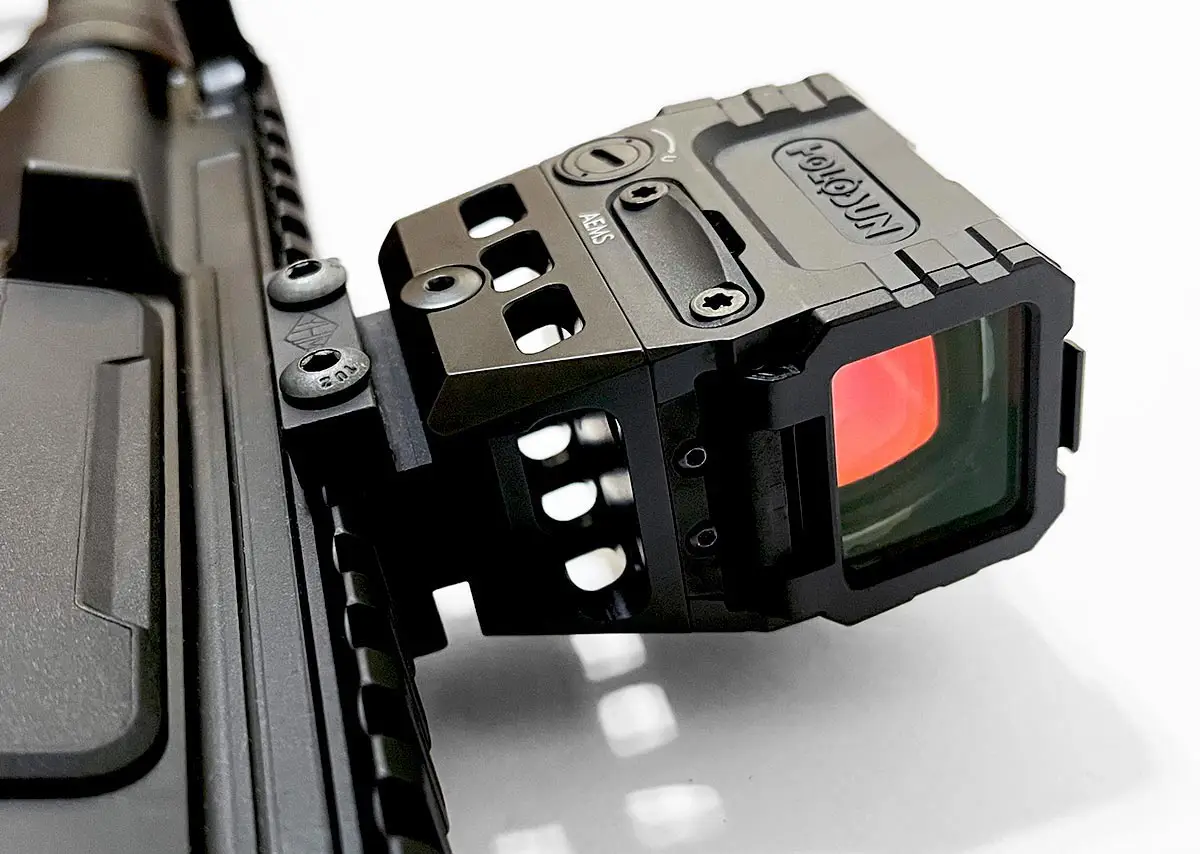 Holosun recently introduced a new model to their red dot sight lineup called the AEMS (Advanced Enclosed Micro Sight). The Holosun AEMS is a very small and lightweight "micro" red dot sight that offers a larger-than-usual field of view. It can be purchased with either a red or green reticle. The green reticle option will cost slightly more.
Features of the Holosun AEMS
Large Field of View (FOV)
Unlimited Eye Relief
Parallax Free
Compact and Lightweight (approximately 5.5 oz including mount)
Shake Awake Technology – Motion On with Last Setting Recall
Up to a 50,000 Hour battery life (with dot only reticle option)
Solar Failsafe
Multi-Reticle System (MRS): 2 MOA Dot, 65 MOA Circle, Circle-Dot
Clear Flip-down Len Covers
Housing made from 7075 aluminum
Durable black anodized finish
Lens Multi-Coatings

Holosun AEMS Specs
Multi-Reticle System (MRS): 2 MOA Dot, 65 MOA Circle, Circle-Dot
Reticle Color of Red or Green
Solar & Battery (CR2032) Power Source
Brightness Settings of 8 Daylight and 4 Night Vision
Window Size is 1.1″ × 0.87″
Dimensions are 2.2″ × 1.54″ × 1.7″
Weight of Sight Only is 3.9 oz (without mount); approximately 5.5 oz including mount
Adjustment per Click of 0.5 MOA
IPX8 – Can be submerged deeper than 1 meter

What's Included with the Holosun AEMS
A Proprietary Lower 1/3 Co-witness Mount (currently the only mount offered)
Multi Tool to remove battery and adjust windage and elevation
Clear Flip-down Len Covers
User Manual
CR2032 Battery
Lens Cloth

Pricing
MSRP is $470.58 for the red reticle, but the street price is about $400.
MSRP is $505.87 for the green reticle, but the street price is about $430.

At the Range
It should be no surprise that the AEMS was as accurate as any red dot or holographic sight I've ever used. And despite it's diminutive size and minimal weight, it looks and feels quite rugged. I also like the larger FOV compared to many other traditional tube-style micro red dot sights. Some may say that a larger FOV is irrelevant when you're shooting properly…that is, you focus on the target, not the reticle, with both eyes open. However, an argument can be made that a larger FOV is better for shooting on the move (running and gunning), and/or from non-traditional/unconventional positions.
Although there is the option to select a dot only reticle (also an option for circle only), I prefer the circle dot reticle (2 MOA Dot, 65 MOA Circle) which is very sharp/crisp. When using any optic, it's best to have 20/20 vision or to use eyeglasses/contact lenses with the most up-to-date prescription. I also prefer shooting with the lens covers over the glass.
Lens clarity is very good, but it should be noted that there is a slight blue tint from the lens multi-coating. If you don't like the blue tint, you may have to consider other more expensive options such as an Aimpoint Micro T-2 or Trijicon MRO HD (the standard MRO seems to have a blue tint). Eotech holographic sights don't have a blue tint, but they are much bigger and heavier with far less battery life.
I also like that with the AEMS you don't see the LED emitter in your field of view, unlike some tube-style red dot sights.
Brightness adjustments (8 daylight and 4 night vision settings) can be easily made from the "+" and "-" buttons on the left side of this optic. I also love the shake awake feature with last setting recall, particularly when using for home defense.
One small issue I noticed was that the Torx cross bolt mounting screw came loose (I've also had this happen with a Holosun 510C) after my trip to the range, so I applied blue Loctite to it. The owner's manual actually recommends using a "non-permanent" threadlocker.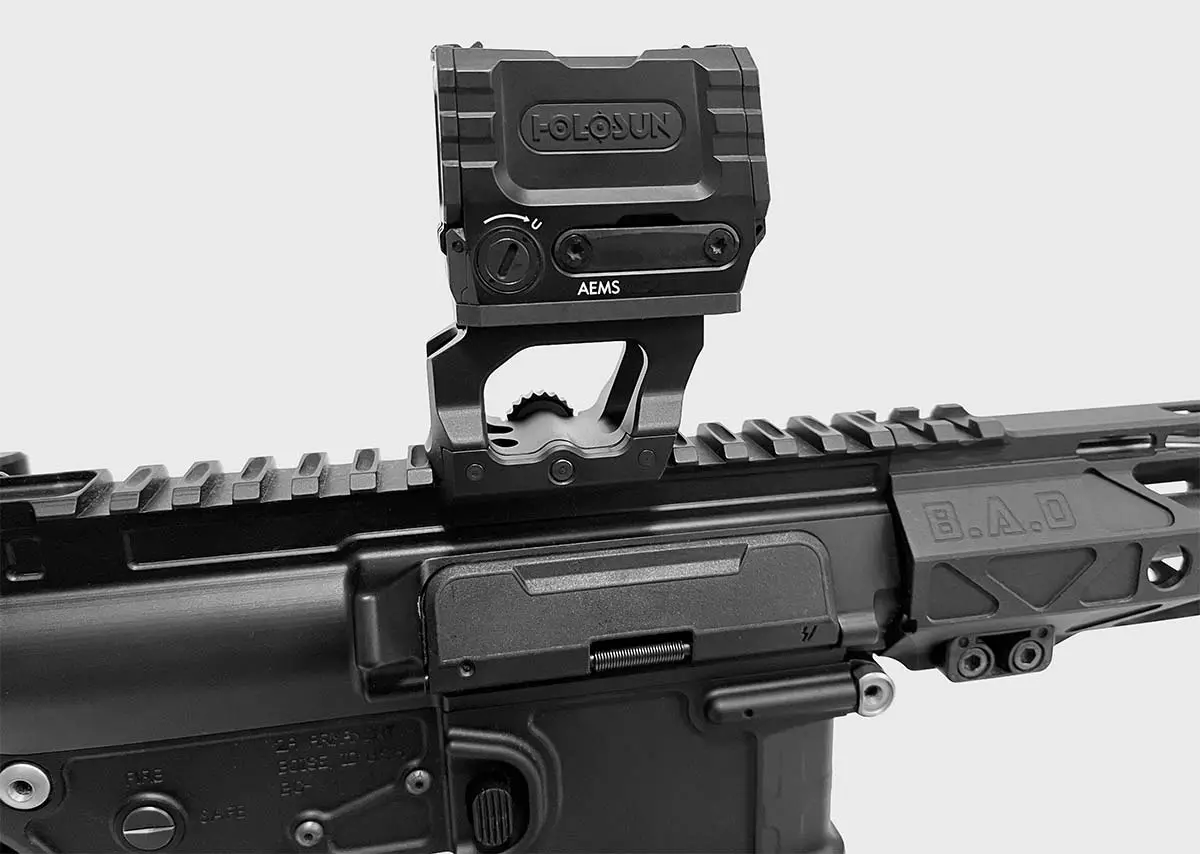 A Better Mount for the Holosun AEMS
I found the included Holosun lower 1/3 cowitness mount to be kind of goofy looking and the Picatinny mounting clamp Torx cross bolt not particularly secure. As noted earlier, I had to use Blue Loctite to prevent it from loosening.
I also wanted to have a 1.93" optical centerline height to give me a more "heads up" position. That said, I would actually prefer to use a Scalarworks Leap mount for my AEMS.
Unfortunately, Scalarworks does not make a mount for the AEMS and they recently told me that they have no plans to make an AEMS mount for the foreseeable future. Bummer.
However, it still is possible to use a Scalarworks LEAP/01 or any other Aimpoint T-1/ T-2 hole and channel patterned mount on the Holosun AEMS using a special adapter plate.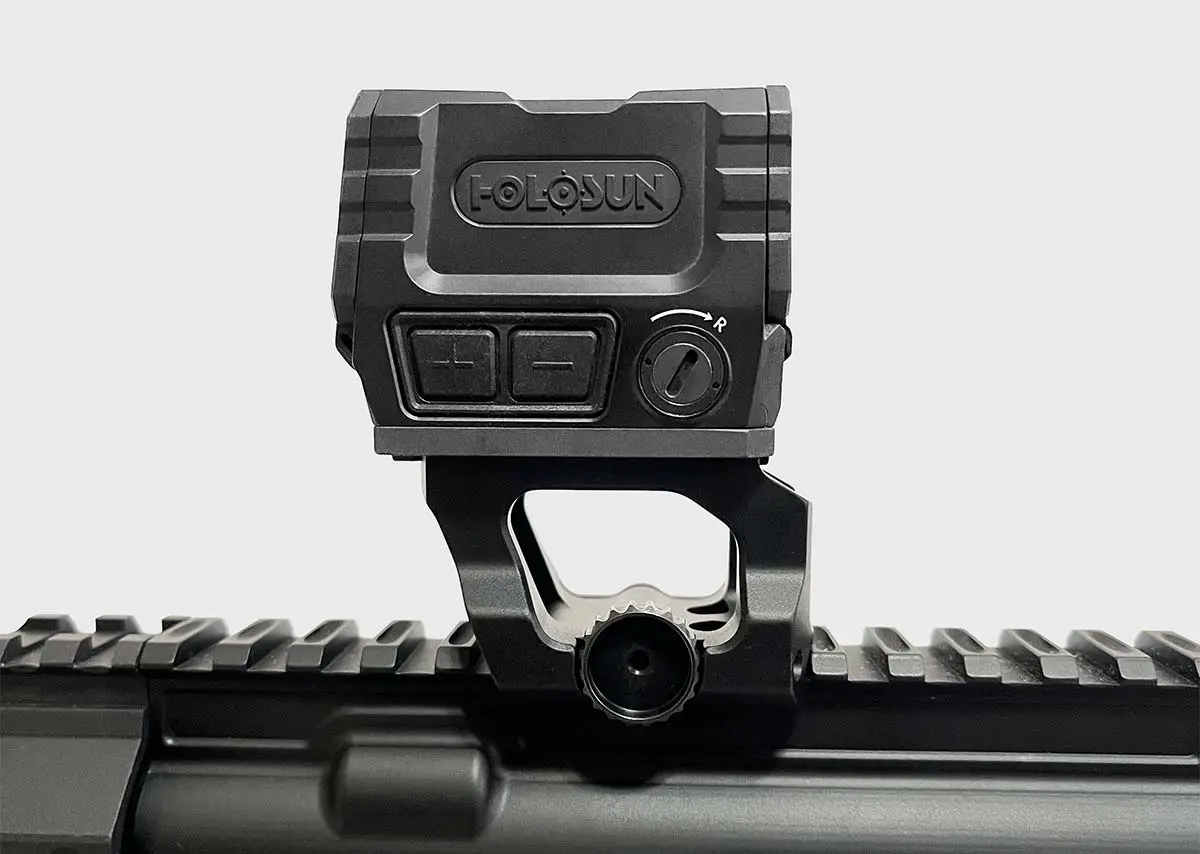 How to Use a Scalarworks LEAP/01 Mount on the Holosun AEMS
In my search to find a better mount for my AEMS, and one that would give me a 1.93" optical centerline height, I came across a great solution from a company called AMMJ Ergonomic Solutions out of Michigan.
Their ingenious product is an adapter plate ($68) made from billet 6061-T6 aluminum, that makes it possible to attach a Scalarworks LEAP/01 or any other Aimpoint T-1/ T-2 hole and channel patterned mount, to the AEMS. In my case, I purchased the 1.57″ Scalarworks LEAP/01. The 1.57″ LEAP with the AMMJ adapter plate attached to my AEMS would give me a total optical centerline height of 1.99" which is very close to the 1.93″ I wanted.
You can read my review of the AMMJ AEMS adapter plate here. And here is where you can visit the AMMJ Ergonomics website to buy one.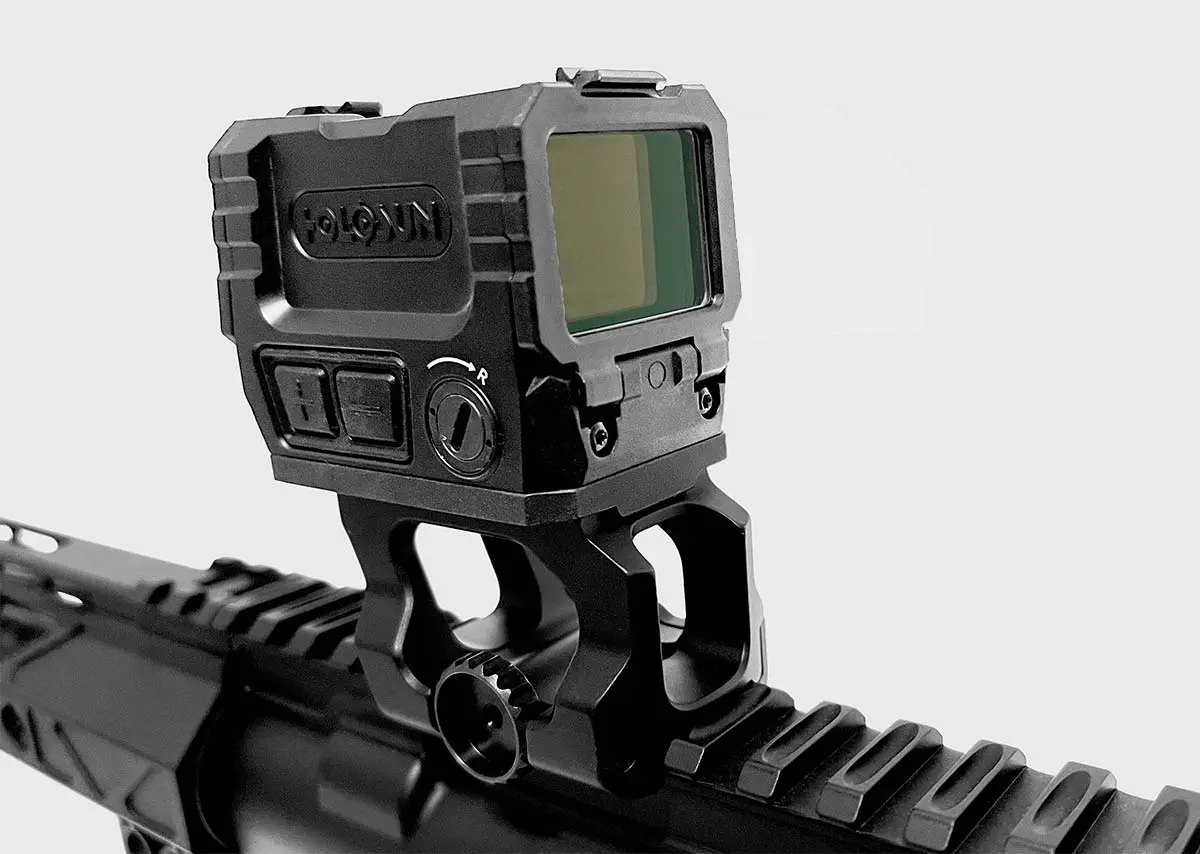 AEMS Issues with Aftermarket Mounts
If you are considering using an aftermarket mount on your AEMS (there is only one currently offered from ADM), you may find that the rear mount screw holes don't line up with those of the aftermarket mount. That is because Holosun changed the centerline distance between the rear mount screw holes.
Some reports state that this only affected the first 500 units of the AEMS production run. I found that NOT to be true.
I have recently read that this change to the rear mount screw holes centerline distance supposedly changed after the first 10000!
If true, this means that serial numbers lower than 10000 will have a shorter centerline distance between the rear mount screw holes such that an aftermarket mount like the one from ADM, will not line up correctly with the AEMS.
If you have such an issue, you may need to send Holosun your AEMS for evaluation. If your AEMS is determined to have the shorter centerline distance between the rear mount screw holes, Holosun should send you a replacement. This should then enable you to successfully use the AMMJ adapter plate with you new (serial number above 10000) AEMS red dot sight.
According to a diagram Holosun sent to me, the rear screw hole center line distance from one another should be approximately 12mm or .472" apart.
I measured the centerline distance between the rear mount screw holes to be approximately .4375" on my AEMS, so I recently sent it to Holosun for evaluation. By the way, my AEMS serial number is in the 6000 range.
Final Thoughts
Although this $400 micro sight would hardly be called budget priced, it's not nearly as costly as the top tier sights from Aimpoint and Eotech. Yes, I love my EXPS3 holographic sights, but they are almost double the weight of the Holosun AEMS, have a fraction of the battery life and cost about $300 more. Another high-end alternative might be the Trijicon MRO HD (because it also has a circle dot reticle option). However, the MRO HD is well over $300 more than the Holosun AEMS and lacks some of the features found on the Holosun AEMS…particularly shake awake with last setting recall. I also prefer "+" and "-" buttons to adjust the brightness levels, rather than knobs.
While I prefer to buy "American" made products whenever possible, I also believe in buying whichever products best meet my needs. Yes, the Holosun AEMS is made in China, but so is just about everything else we use everyday in our lives from computers, to smart phones to appliances.
The bottom line…if you are looking for a quality, lightweight micro red dot optic from a reputable manufacturer with a lot of great features, and at a mid-range price of approximately $400, the Holosun AEMS may be worth considering.