When it comes to suppressing your AR-15, often times it may be necessary or preferable, to regulate the amount of gas that flows into the action. An adjustable gas block is one of the most common methods to "tune" your AR-15's gas system. Why is this important? If you AR-15 is significantly overgassed, it will cycle more harshly, causing malfunctions, increase recoil and add more wear and tear on parts.
There are many adjustable gas blocks on the market, but the Aero Precision adjustable gas block, which was introduced in mid-2020, is an excellent option.
Features of the Aero Precision Adjustable Gas Block
A low-profile design that fits under most handguards.
15 gas adjustment settings
A machined, stainless steel adjustment screw provides repeatable, audible and tactile "clicks" without the use of a secondary "locking" screw
A sacrificial chamber to help mitigate carbon locking
A user-serviceable design
Aero Precision Adjustable Gas Block Specs
Machined from 4140 steel
Nitride Finish
Options for compatibility with barrels utilizing a .750 or .625 gas block journal
Weight of 1.4 oz
What's Included with the Aero Precision Adjustable Gas Block
One 6" 3/32 allen wrench for gas block adjustments
Extra spring and detent for adjustment screw
Price of the Aero Precision Adjustable Gas Block
MSRP is $64.99 but the street price is about $55.
At the Range
Making adjustments using the included 6" 3/32 Allen wrench is easy since there is no secondary screw that you have to fumble with to lock in adjustments. You can also feel the tactile clicks because the Aero adjustable gas block uses a spring and detent beneath the adjustment screw. I use Aero Precision adjustable gas blocks on various suppressed AR-15s (both .750 and .625 gas block journals) including an SLR Rifleworks custom pistol build and have found that they work very well to reduce recoil and excess gas (to further reduce gas to the eyes, I use the Griffin Armament SN-ACH gas buster charging handle). Using the Aero adjustable gas block also enables me to use a standard weight 3oz carbine buffer and spring rather than a heavier h3 buffer, particularly on shorter barreled hosts.
So far, I have not had issues with any of the Aero Precision adjustable gas blocks themselves. However, one particular AR build short stroked when the Aero Precision adjustable gas block moved forward slightly. This may be because I did not red Loctite the set screws that secure it to the barrel. Since then, I dimple every barrel for all gas blocks and red Loctite both set screws for good measure.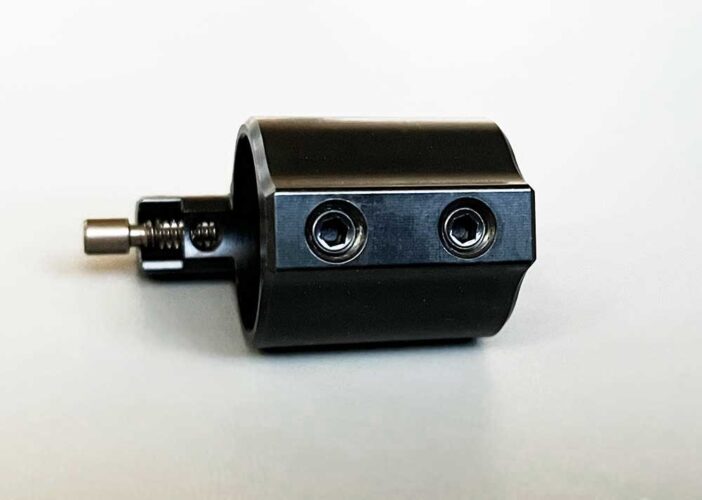 Final Thoughts
You could spend over $200 for an adjustable gas block, but I just don't think it's necessary. Aero Precision has a well-earned reputation for making quality AR-15 and AR-10 parts at reasonable prices and their adjustable gas block is no exception. At a street price of about $55, I think the Aero Precision adjustable gas block is the best adjustable gas block you can buy for the money.