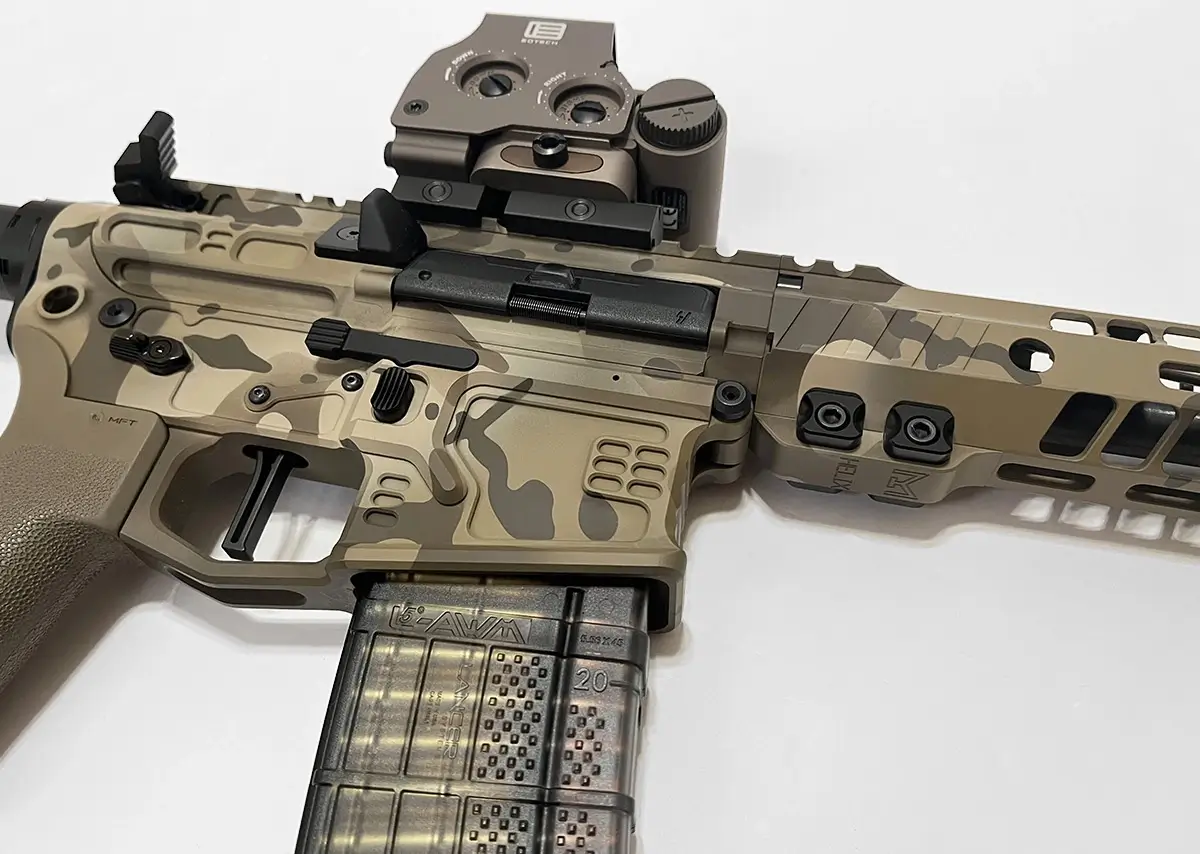 SLR Rifleworks is known for its top quality adjustable gas blocks, muzzle devices and handguards. What some people may not know is that they also offer top tier, ambidextrous, matched billet receiver sets, as well as builder sets that include a mind-boggling choice of handguards. SLR also offers a wide range of Cerakote finishes/colors from Deadlock Coatings.
The SLR Rifleworks "ambi" B15 Builder Set includes an AR-15 matched billet receiver set and handguard. Having already gathered all of the necessary parts, I was finally ready to begin this premium AR build.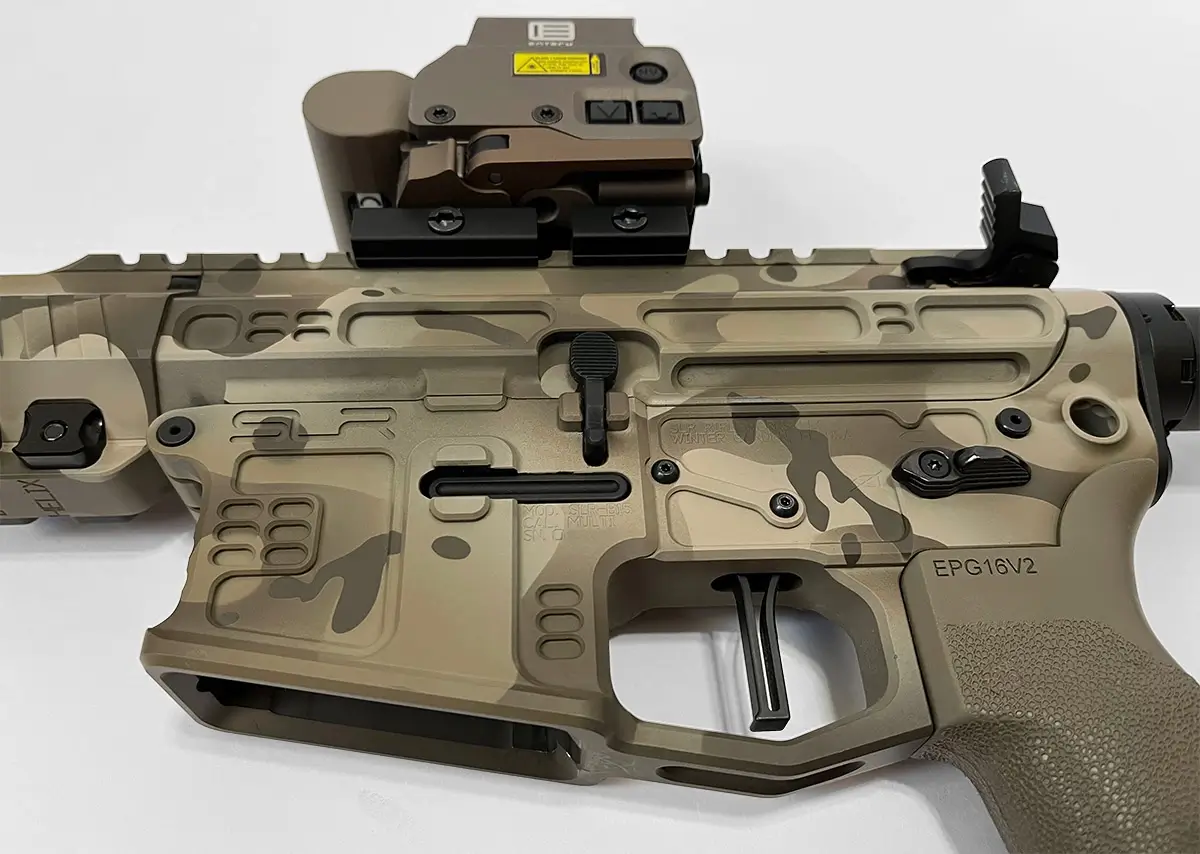 SLR Rifleworks Billet Receiver Set Fit and Finish
The quality and machining of the SLR-B15, 7075 billet receiver set is top notch. Out of the box, the upper and lower receivers have a tight fit, with no wobble, in part due to the Cerakote finish. However, after taking this new build to the range a few times, the fit between the upper and lower loosened up a little. As a result, I used the nylon receiver tensioning screw to tighten up the fit between the receivers. The bolt catch/release came pre-installed by SLR and is ambidextrous.
I decided not to install an ambi mag release since I really don't need it. The Helix handguard is also a gorgeous, well-machined, lightweight design.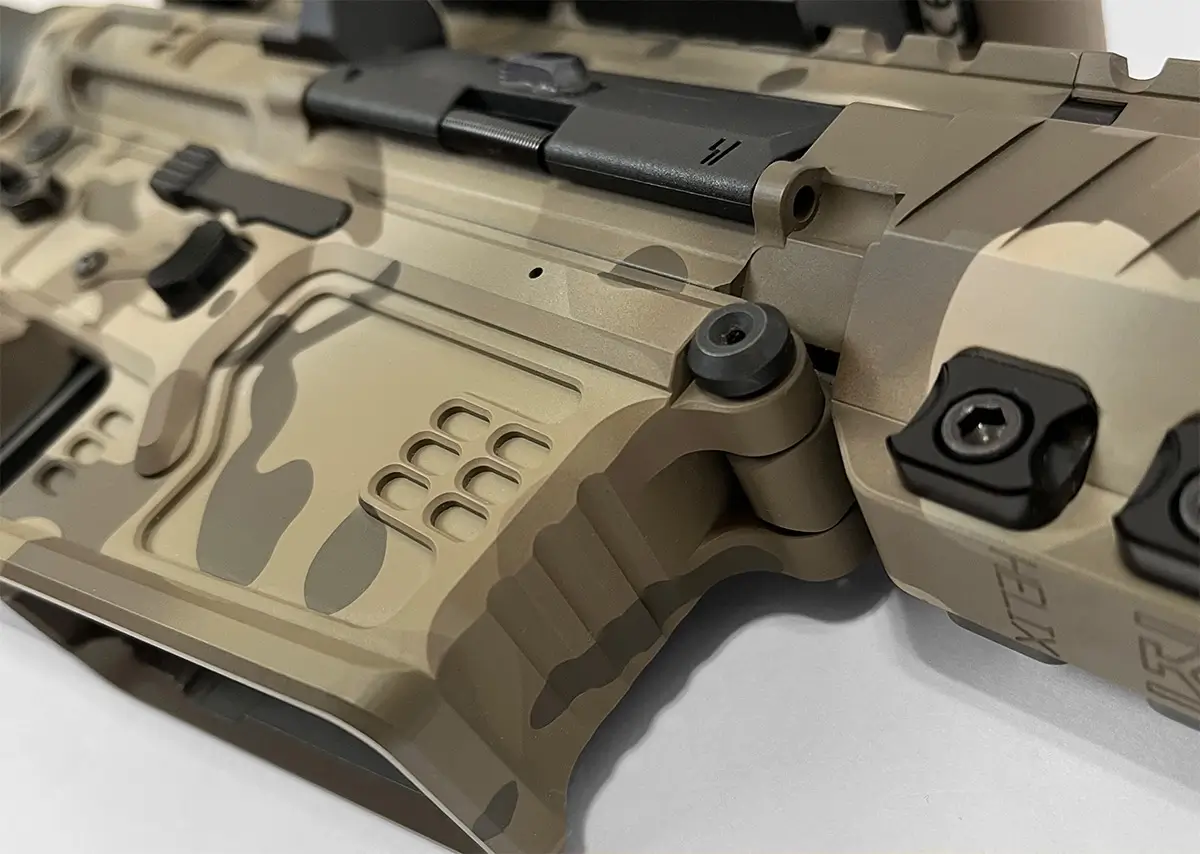 What I Don't Like about the SLR Rifleworks Billet Receiver Set
The only thing I don't like is that the SLR billet lower receiver's integrated trigger guard is somewhat narrower than I expected — it's about the same width as the integrated trigger guard found on the Aero Precision M4E1 lower. I prefer a wider integrated trigger guard like the ones found on the POF Renegade Plus lower receiver or the Wilson Combat Billet lower receiver (TR-LOWER-BIL).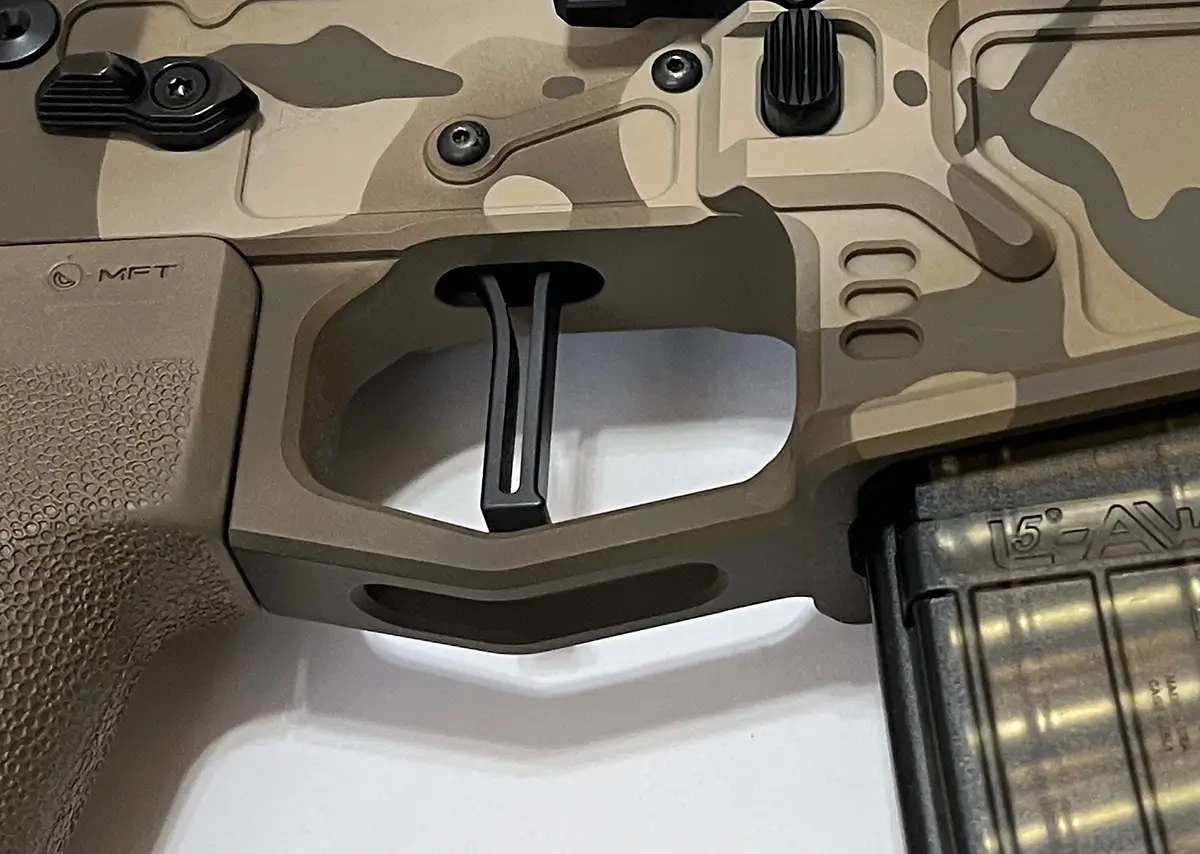 SLR Rifleworks Helix MLOK Handguard
The SLR Rifleworks Helix handguard is very lightweight, stylish and strong. It's also very easy to install and secure because it uses a slip fit locking mount design and a billet anti-rotation insert.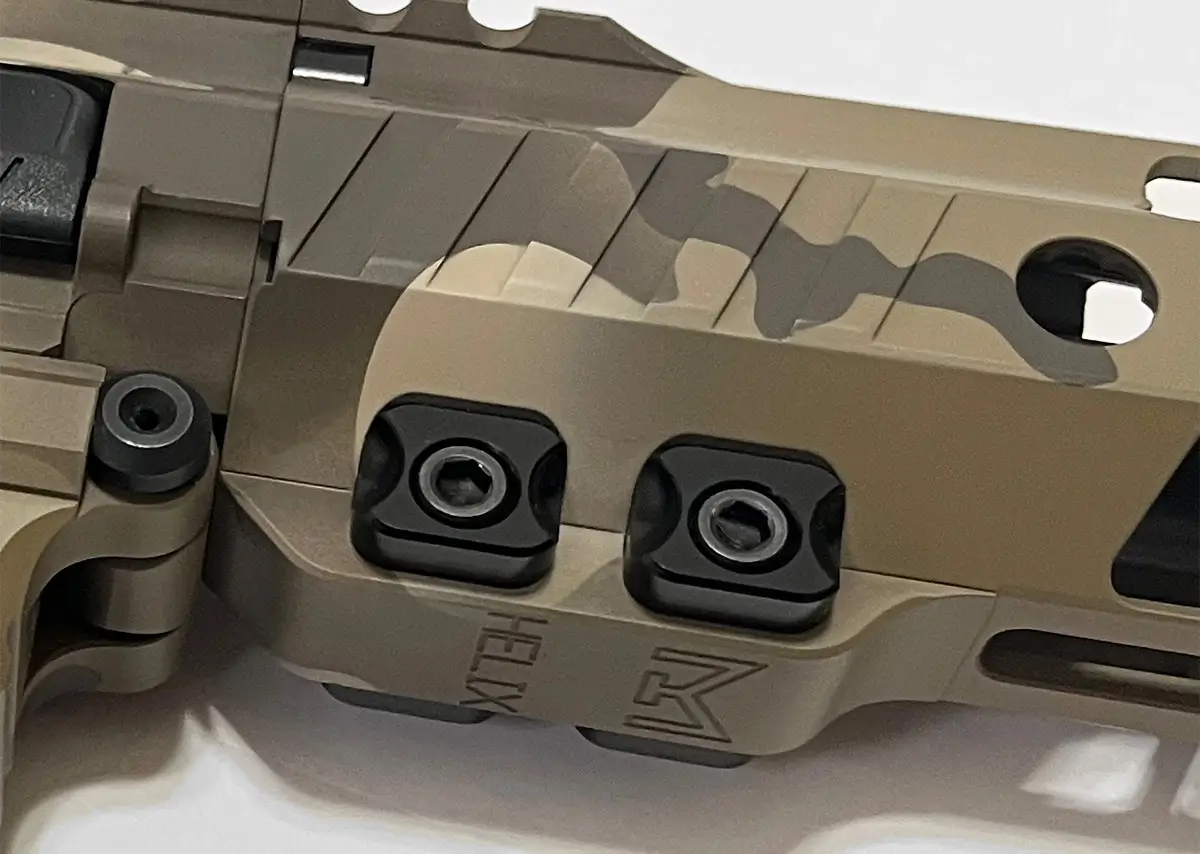 SLR Rifleworks Builder Set Pricing
Currently, pricing starts at $839.99. That includes a matched upper and lower receiver set plus your choice of handguard. The Desert Multicam Cerakote option added $125 to the total cost of the builder set. A multicam Cerakote job like this could cost as much as $400 if done separately, so I felt that SLR's pricing to Cerakote the entire builder set was quite a good deal.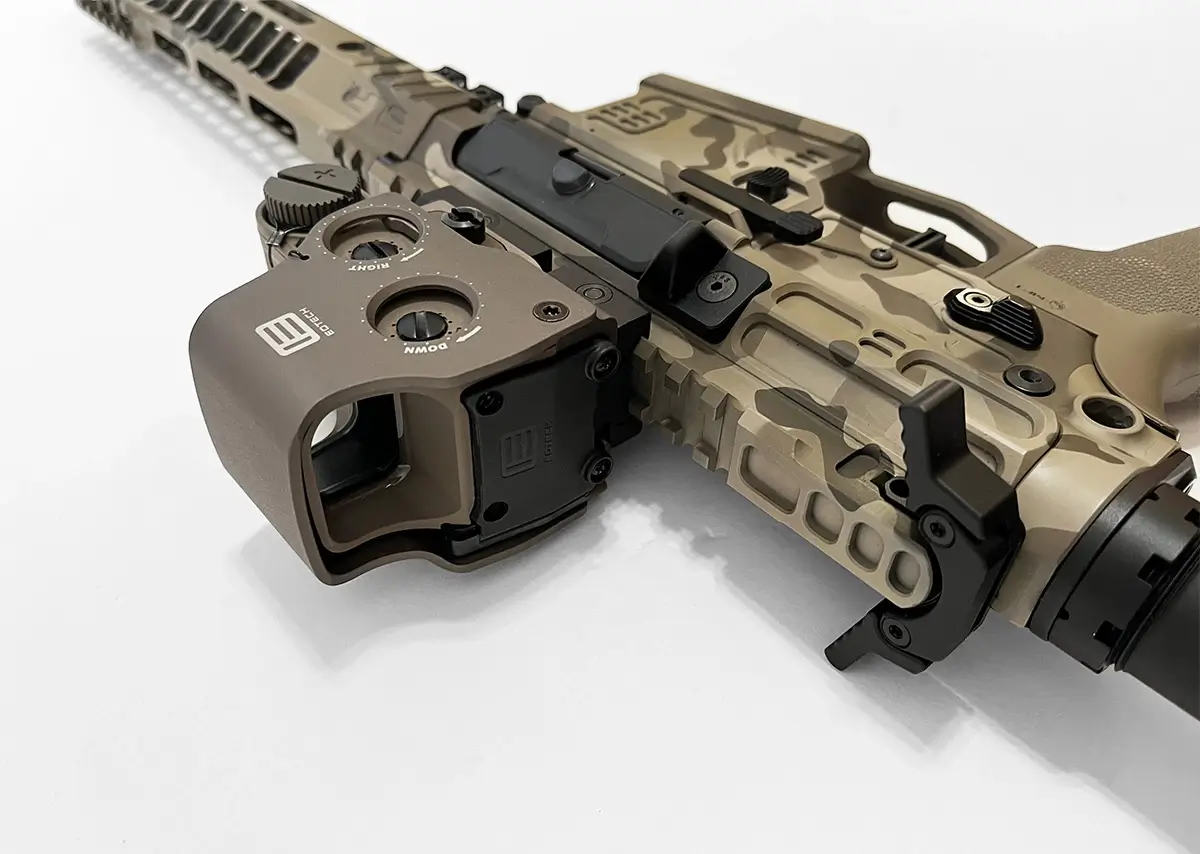 SLR Rifleworks Custom Build Parts List
SLR Rifleworks ambi billet B15 Receiver Set machined from 7075 Billet Aluminum
2A Armament Aluminum Magazine Catch Assembly
TriggerTech Ambidextrous Safety Selector 45/90 degree
Dirty Bird AR-15 Anti-Walk Pin Set
V Seven Ultra-Light Aluminum Castle Nut
Radian Weapons Ultralight QD Endplate with Titanium QD Sling Swivel Cup
JP Enterprises Enhanced Bolt Assembly in Black DLC
JP Gen 2 Silent Captured Spring (JPSCS2-15) Standard Weight
Aero Precision Adjustable Gas Block (.750 gas block journal)
Aero Precision Stainless Steel Gas Tube
Strike Industries Ultimate Dust Cover (Polymer)
EOTECH EXPS3-0 Holographic Sight
Weaver Optics Picatinny Riser Set
YHM Mini Phantom QD Muzzle Brake
Mission First Tactical Engage Pistol Grip V2
V Seven Titanium Grip Screw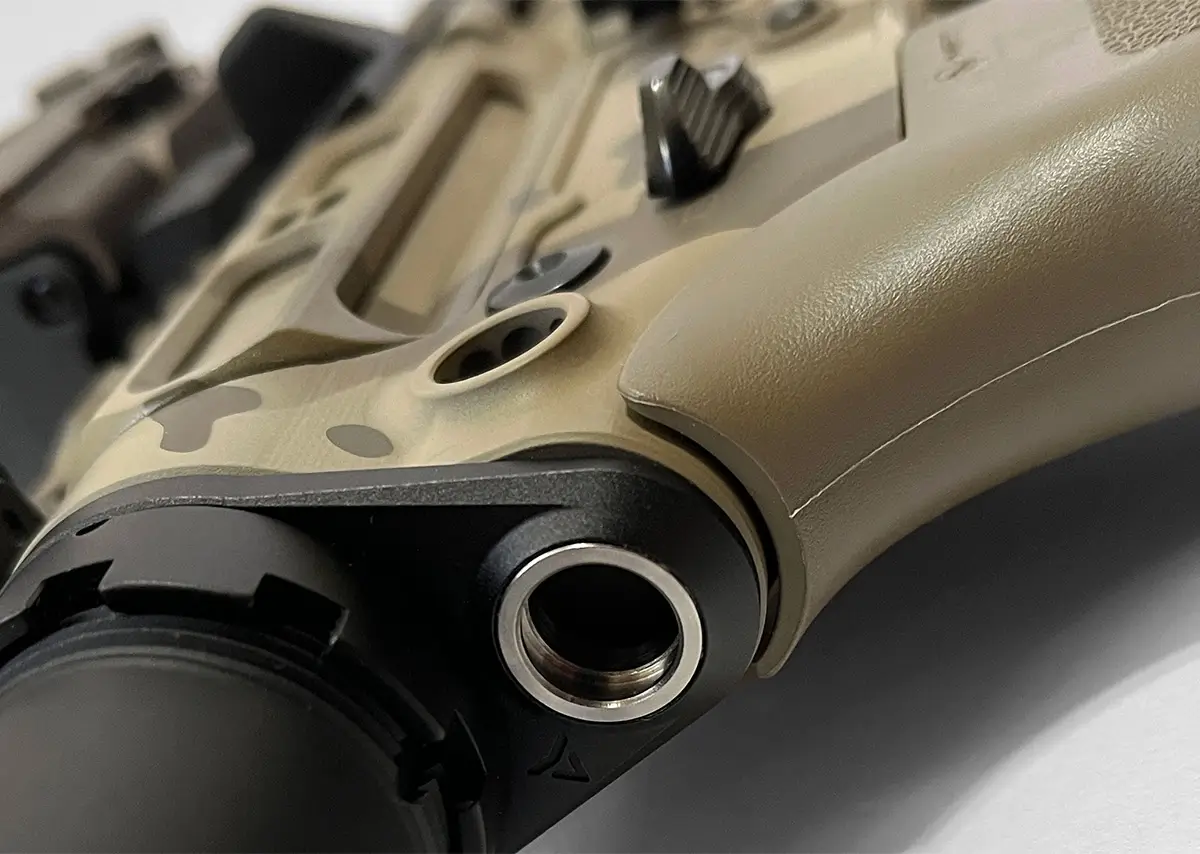 At the Range
Since this build is mainly for range use, I wanted to keep it as clutter free as possible. No angled foregrips or handstops. No lights. No magnifiers. No RailScales (or other brand of rail covers). After shooting about 220 rounds of 5.56 NATO 55 gr FMJ (M193) with a YHM Turbo T2 and an Aero Precision adjustable gas block dialed in, this SLR Rifleworks custom build ran flawlessly. I recommend using the Griffin Armament SN-ACH Charging Handle together with the Aero Precision Adjustable gas block when running a suppressor such as the YHM Turbo, YHM Turbo T2 or the YHM Turbo K, as it really cuts down on the gas to the eyes, especially if you make the modifications that I've made. In fact, I'd say gas to the eyes has been almost completely eliminated on this particular build.
Final Thoughts
If you are looking to buy one of the finest billet receiver sets and handguards, you may want to consider a builder set from SLR Rifleworks. This is my favorite billet receiver set and I don't think anyone who buys one will be disappointed. Currently, the SLR Rifleworks website says the lead time is 8-10 weeks, but I think it's well worth the wait.