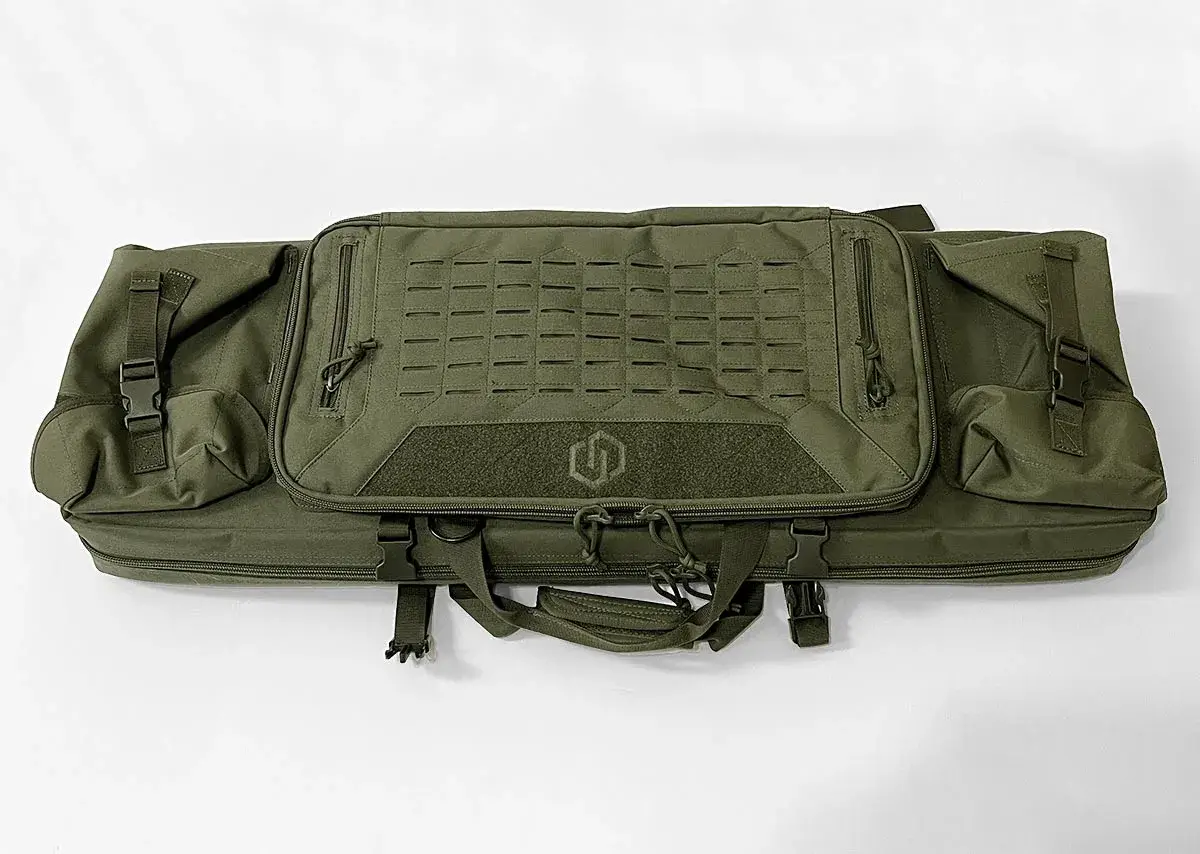 Savior Equipment, based in California, offers quality firearms cases, backpacks and other related gear at affordable prices. From what I could find, the company seems to have been established around 2017.
For whatever it's worth, the two Savior soft cases that I own have a "made in Myanmar" tag on them. Myanmar is the country formerly known as Burma.
Features of the Savior Urban Warfare 36″ Double Rifle Case
Clamshell design that opens flat
Available in Black, Grey, Green and FDE
Well-padded main compartment
Hook and loop lock down straps
Full length removable padded divider
External double pistol pocket
2 large padded pistol sleeves
2 zippered mesh pockets
2 additional exterior accessory pockets
Padded backpack straps and shoulder strap are adjustable and removable
Exterior and interior shell made from 600D polyester
MOLLE compatible webbing
Woven cinch straps
Durable, side release buckles
Lockable zippers
Double-stitched seams
Morale patch panel
Hook and loop fasteners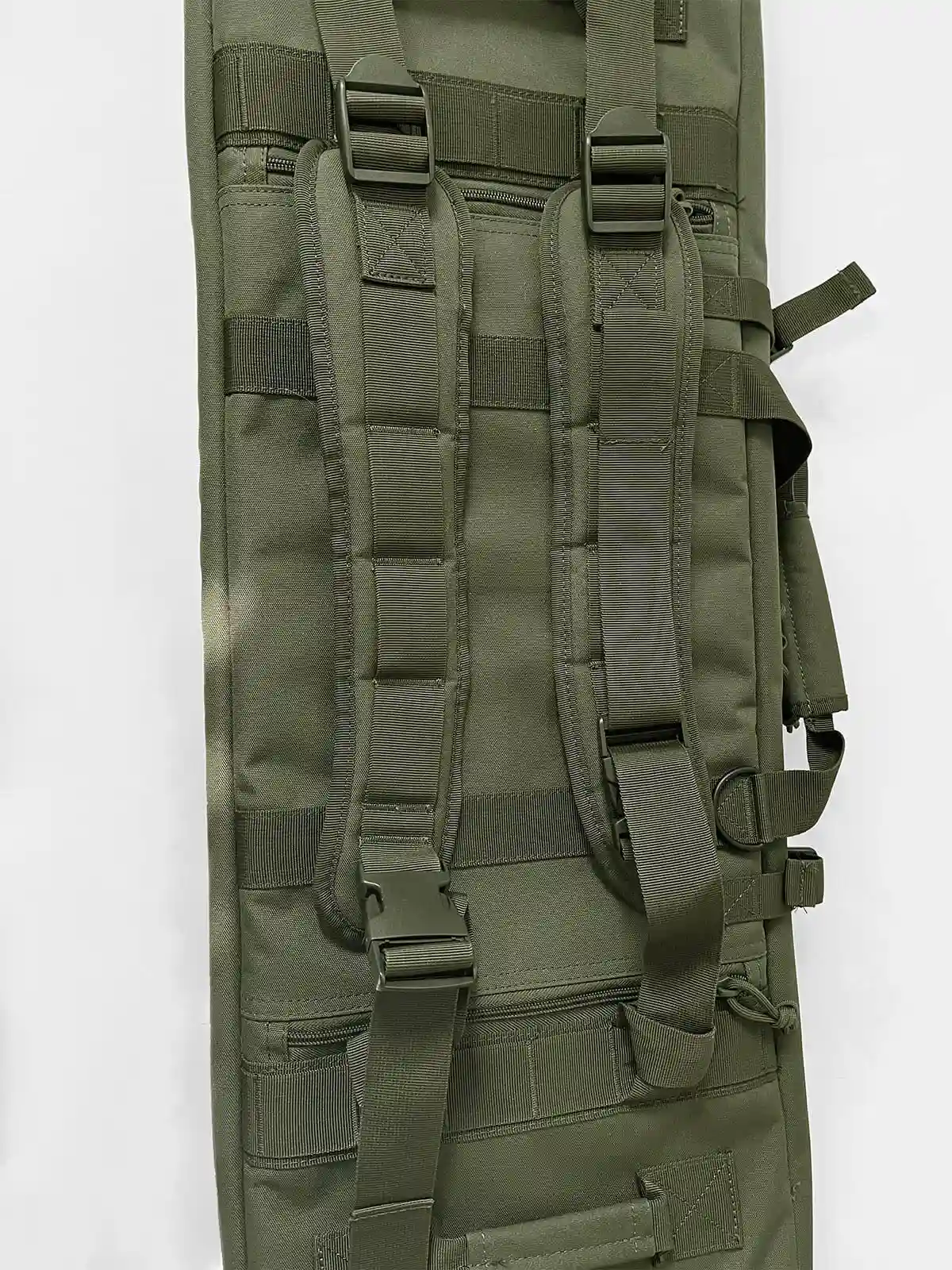 Savior Urban Warfare 36″ Case Specs
External Size – 36" L x 12.75" H x 7" W
Internal Size – 35" L x 12" H
External Double Pistol Pocket Size – 21.5" L x 11" H
Internal Pistol Sleeve Size – 10" L x 9.75" H
Exterior Accessory Pocket Size – 5.5" L x 10" H
Pricing of the Savior Urban Warfare 36″ Case
MSRP is $82.99 but the street price can be found as low as $66. The Urban Warfare rifle case is also offered as a separate product in black multicam and traditional multicam, but pricing jumps up to about $200.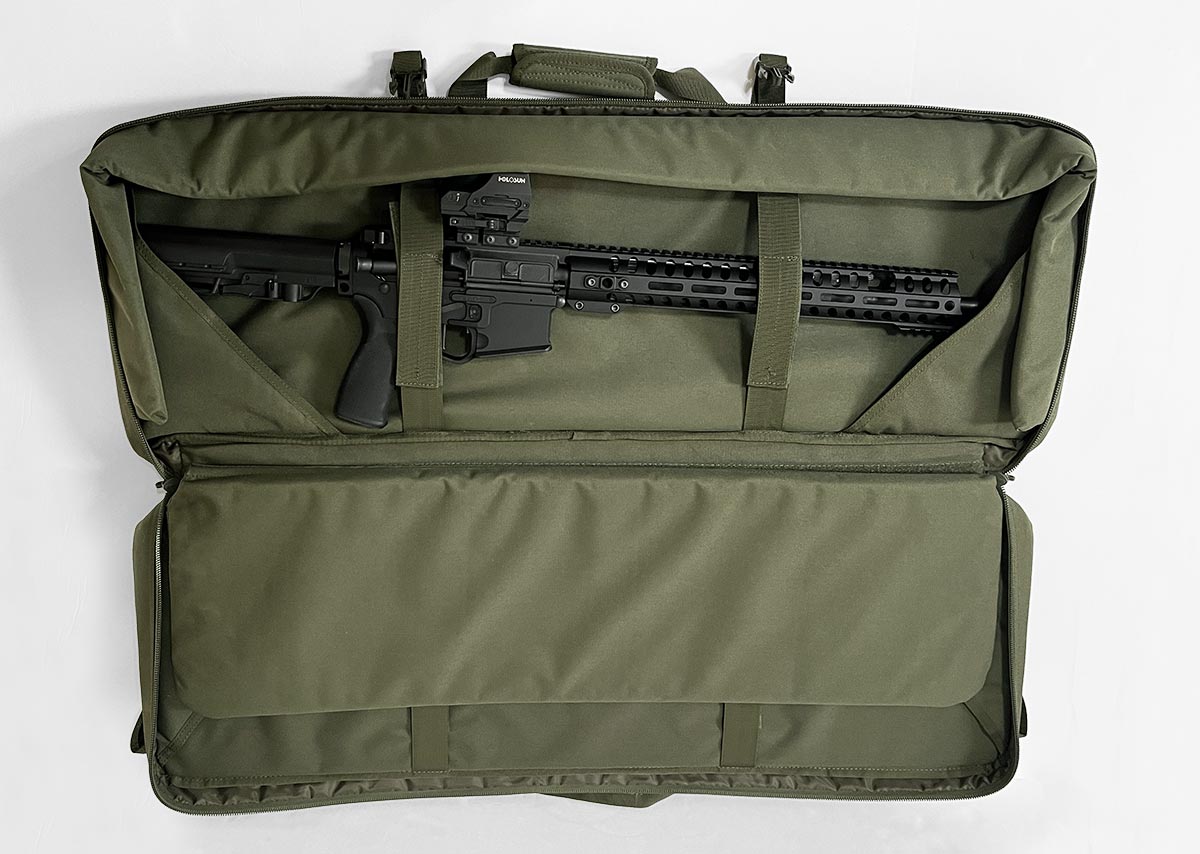 General Impressions
The Urban Warfare case is well padded inside (along 3 sides) one half of the case, to protect your rifle. There is a removable, padded divider that separates the two halves of the case so that you can store 2 rifles in the case simultaneously. However, inside the other half of the case where you would place your second rifle, there is no additional padding around the 3 sides.
The Urban Warfare case also has strong, double stitching throughout. The adjustable, padded backpack straps make carrying it easy and convenient. It also offers a lot of storage compartments for mags, tools, suppressor(s) and other items.
A POF Renegade Plus AR-15 with a 16.5″ barrel and a fully collapsed stock, has an overall length of about 34″. This fits snugly inside the Savior 36″ Urban Warfare rifle case.
I wouldn't recommend going any shorter than a 36″ external length on a soft rifle case for a 16″ barrel AR-15 unless that rifle has a side-folding stock. I think a good rule of thumb may be to get a soft rifle case with an exterior length that is at least 2 inches greater than the length of the rifle that you are planning to carry inside of it.
Final Thoughts
I was able to buy the Savior Urban Warfare 36″ Double Rifle Case online for just $66, plus shipping, which is a ridiculously low price for a rifle case. But, I can assure you it is very well made and I am confident that it should last a long time, just like my other Savior case. It's definitely not a cheap, piece of junk that will fall apart after a few uses. It's also not a "made in the USA", $300-$500 hard rifle case either…obviously.
If you are looking for a truly affordable, good quality, soft rifle case that you can use to transport your rifle to and from your local range, you should check out the Savior Urban Warfare 36″ Double Rifle Case.