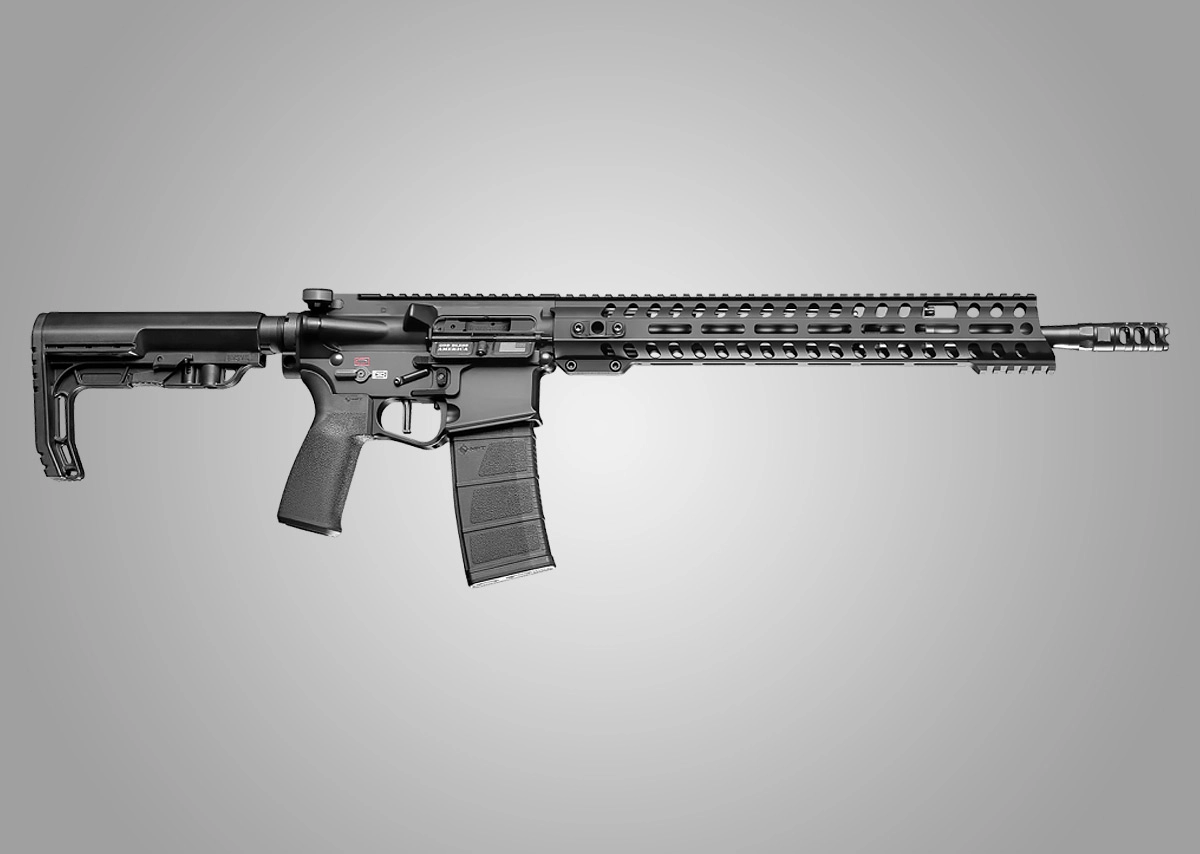 The POF USA Renegade Plus (5.56 NATO and .300 BLK) is a direct impingement AR-15 from Patriot Ordnance Factory (POF USA) located in Phoenix, Arizona. POF was founded in 2002 by aerospace engineer, Frank DeSomma. POF was the first to manufacture and sell gas-piston-operated ARs in the U.S. market. Under Mr. DeSomma's leadership, POF has established a reputation as a premium brand of ARs known for their innovative engineering, design and top-notch quality.
Why Consider a POF USA Renegade Plus?
While the POF Renegade Plus isn't a budget priced AR, it's not the most expensive AR out there either. And although there are other manufacturers who make reliable, good quality AR-15s in its price range, none of them offer the many innovative features that are included in the Renegade Plus.
General Impressions
The POF Renegade Plus utilizes a forged upper receiver and a billet lower receiver with ambidextrous controls and an oversized integrated trigger guard. The circumference of the POF's 14.5″ M-LOK handguard is a little bit larger to accommodate the increased height resulting from the use of a straight gas tube with their taller, proprietary adjustable gas block. The handguard also incorporates a cutout enabling easy access to the adjustable gas block when changing settings. Overall machining is excellent. The anodized black finish is smooth and attractive.
And although there are other manufacturers who make reliable, good quality AR-15s in its price range, none of them offer the many innovative features that are included in the Renegade Plus.
POF USA Renegade Plus Features
16.5" Nitride Heat-Treated Barrel
Nitride Heat-Treated Triple Port Muzzle Brake
DIctator Adjustable Gas Block with 9 adjustment settings
High-Phosphorus Nickel Coated Bolt Carrier
KNS Precision Anti-Walk Pins
Tomahawk Ambidextrous Charging Handle
Anti-Tilt Buffer Tube
Oversized Heat Sink Barrel Nut
E2 Dual-Extraction Technology
14.5″ Renegade M-LOK Handguard
Mission First Tactical Furniture (including the Mission First Tactical BMS- Battlelink Minimalist stock)
Gen 4 Billet Lower Receiver Features
Ambidextrous Bolt Release with Enhanced Bolt Catch
Ambidextrous Safety Selector
Receiver Tension Screws
Oversized Mag Well Flare
Ambidextrous Recessed Finger Rest
Ambidextrous Magazine Release
Oversized Integrated Trigger Guard w/ Grip Relief
Ambidextrous Bolt Hold Open
Available QD Rear Sling Mount
Dimensions: POF USA Renegade Plus
Length: 34″ (collapsed)
Rail Length: 14.5"
Weight: 6.3 lbs
Barrel: 16.5″
Caliber: 5.56 NATO and .300 BLK
Price of the POF USA Renegade Plus
MSRP is $1,899.99, but you should be able to get it for less at your local gun store.
To compare pricing for the POF USA Renegade Plus from various FFLs in your area, check out Davidson's Gallery of Guns. Simply type in your zip code, click the "Update Zip" button and then click on the "Instant Quote" button.
At the Range
Having shot over 400 rounds through the POF Renegade Plus, it has run flawlessly. As you might expect, the triple port muzzle brake does a great job reducing muzzle rise, but it is VERY LOUD and CONCUSSIVE, particularly indoors. Therefore, use of a suppressor may be the way to go if you shoot regularly at an indoor range.
The DIctator adjustable gas block came in handy when using a YHM Turbo Suppressor. However, even with the gas dialed down, using the YHM Turbo still resulted in an unbearable amount of gas in my eyes, so I changed out the POF charging handle for a Griffin Armament SN-ACH charging handle…problem solved.
The Weight Factor
Reducing weight on my rifles has become an increasingly important priority for me. While I don't need to have the lightest rifle possible, I am trying to bring down weight where I can, generally buying the most economically priced, lightweight, parts.
That said, the POF Renegade Plus alone weighs approximately 6.3 lbs, which is not crazy heavy, but, even with a lightweight optic, a K suppressor, and a 30 round mag, this brings the total weight of the Renegade Plus up to roughly 8.25 lbs.
Obviously, adding other accessories such as a weapon light, LPVO, foregrip, etc., could significantly increase overall weight to well over 10 lbs. Especially with a suppressor at the end of a 16.5″ barrel, the additional weight is definitely noticeable.
So, I decided to lighten up my Renegade Plus, which meant replacing a number of parts with the following:
Faxon 16″ Duty Series pencil barrel
Dirty Bird AR-15 Anti-Walk Pin Set
Lantac Titanium Ultimate Takedown pin set
Radian Weapons Ultralight AR-15 QD end plate
Radian Talon 45/90 – GI safety selector
2A Armament aluminum magazine catch/release assembly
Strike Industries polymer ultimate dust cover
V Seven ultra light castle nut
I also switched to a lighter, micro red dot optic with a Scalarworks LEAP/01 QD mount.
By using the above parts, I reduced the overall weight of my POF Renegade Plus (unloaded) from 6.3 lbs down to about 4.9 lbs!
Compare this to the Daniel Defense DD4 RIII (16″ barrel and 12.5″ handguard) which weighs 6.52 lbs or a Sig M400 Tread which weighs 7 lbs.

Final Thoughts
The POF Renegade Plus is a great example of superior firearms engineering, evidenced by it's extraordinary fit and finish, thoughtful design and generous number of top-notch features that you won't find anywhere else at this price point. If you're looking for an outstanding AR-15, check out the POF USA Renegade Plus. For more information, visit the POF USA website here.
Unique Innovations and Features
Below are the many innovations and features of the POF Renegade Plus you simply won't find on other factory built AR-15s.
Drop-In Flat Match Grade Trigger
Nitride heat-treated for ultimate strength and corrosion resistance with a crisp 3.5 pound pull weight and KNS Precision stainless steel, non-rotating, anti-walk pins. Read more about the POF drop-in flat match grade trigger here.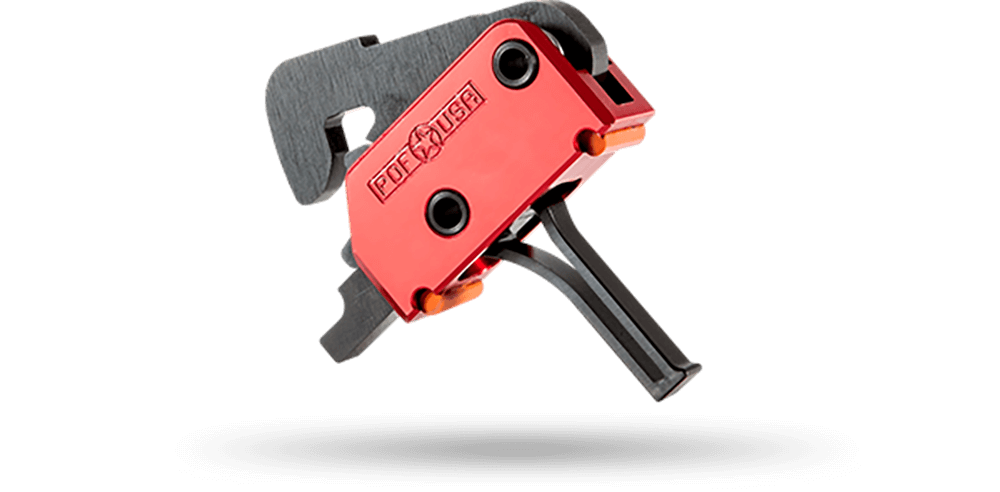 High-Phosphorus Nickel Coated Bolt Carrier & Roller Cam Pin
A one piece high-phosphorus nickel coated bolt carrier is made with the mechanical key built into the body and positioned behind the cam pin. This patented design helps reduce carrier tilt. It also has a chrome plated bolt, extractor and firing pin. This provides both corrosion resistance and lubricity to the action.
POF's patented roller cam pin is an innovative design that reduces friction and drag in the action. Traditional AR cam pins utilize a square steel head that grinds along the inside of the receiver, making a groove. POF's NP3 coated roller head rolls inside the channel of the upper receiver which mitigates friction and extends the life of the upper receiver.

DIctator Adjustable Gas Block
The 9-position DIctator Adjustable Gas Block lets you tune the Renegade Plus to the appropriate operating speed when running a suppressor. Without this ability to adjust rate of fire and gas flow, the increased level of back pressure within the rifle system from the suppressor can prematurely wear parts and increase the amount of gas/carbon introduced into the chamber.
The DIctator also features a straight gas tube which eliminates the heat buildup that occurs at the bent section of a standard gas tube. This is a very important feature for suppressed rifles which are prone to higher heat levels. By reducing the built-up heat, the gas system becomes more reliable and longer lasting.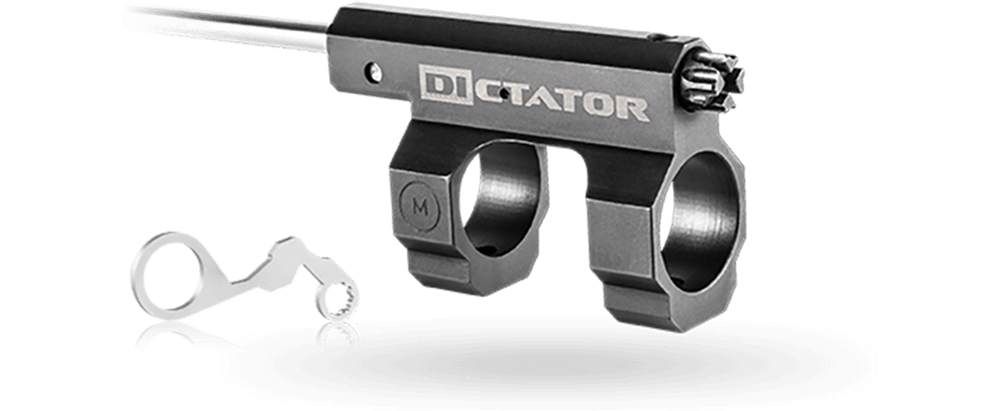 Oversized Heat Sink Barrel Nut
Made from light-weight aluminum with roughly 29″ of surface area, the Renegade's oversized heat sink barrel nut is said to dissipate heat up to 17 times faster than a standard steel barrel nut.

Nitride Heat-Treated Triple Port Muzzle Brake & Barrel
Match-grade chrome-moly barrels are 5R button rifled with polygonal rifling for extreme accuracy and an incredible boost to bullet velocity compared to Mil-Spec AR barrels. Barrels are Nitride Heat-Treated to Rockwell 70 hardness for superior strength, heat and corrosion resilience, extending the average lifespan well into the tens of thousands of rounds.

Anti-Tilt Buffer Tube
An aluminum anti-tilt buffer tube utilizes "carrier cradle" extensions to ensure that the bolt carrier is always supported by the buffer tube even when the bolt carrier is fully forward. This eliminates carrier tilt and premature wear of the buffer tube.

Tomahawk Ambidextrous Charging Handle
Large enough to easily grab from either side.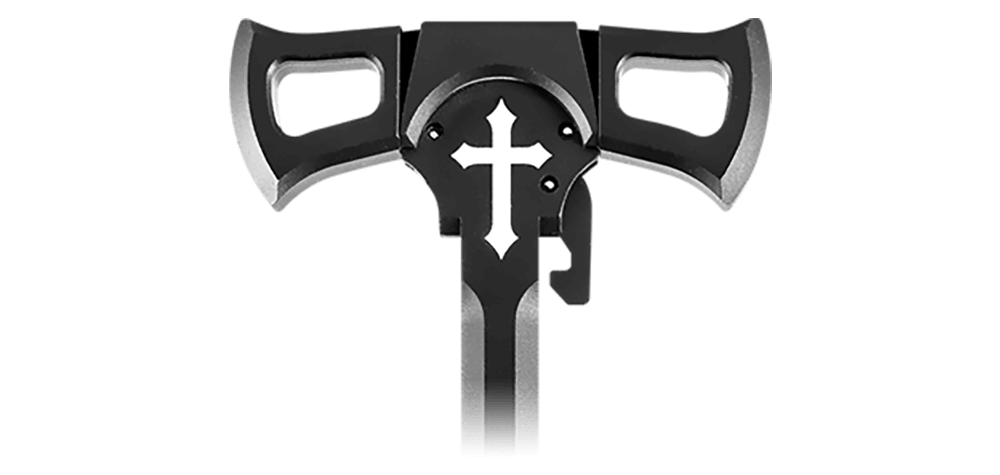 14.5″ M-LOK Handguard
Modern yet durable, M-LOK® compatible mounting system that is lightweight and offers a number of QD mounts.

Gen 4 Ambidextrous Billet Lower Receiver
This beautifully machined billet lower includes Ambidextrous Bolt Release with Enhanced Bolt Catch, Ambidextrous Safety Selector, Receiver Tension Screws, Oversized Mag Well Flare, Ambidextrous Recessed Finger Rest, Ambidextrous Magazine Release, Oversized Integrated Trigger Guard w/ Grip Relief, Ambidextrous Bolt Hold Open and QD Rear Sling Mount.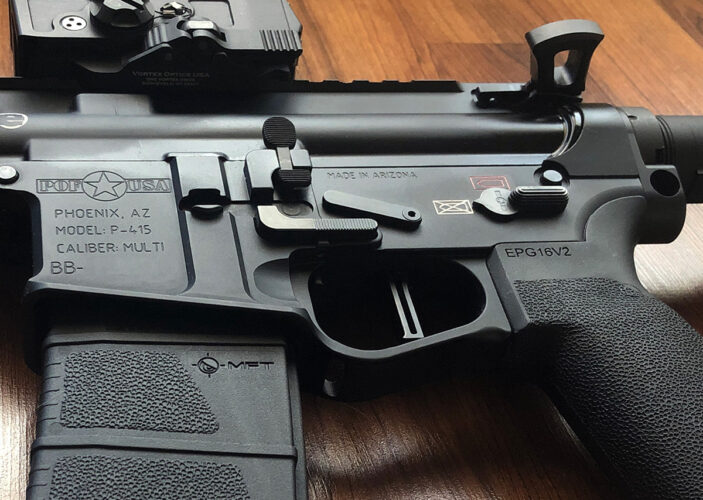 Ambidextrous Bolt Hold Open
Simply push upward against this button (see below) with your trigger finger as you pull back the charging handle with your support hand to lock the bolt open.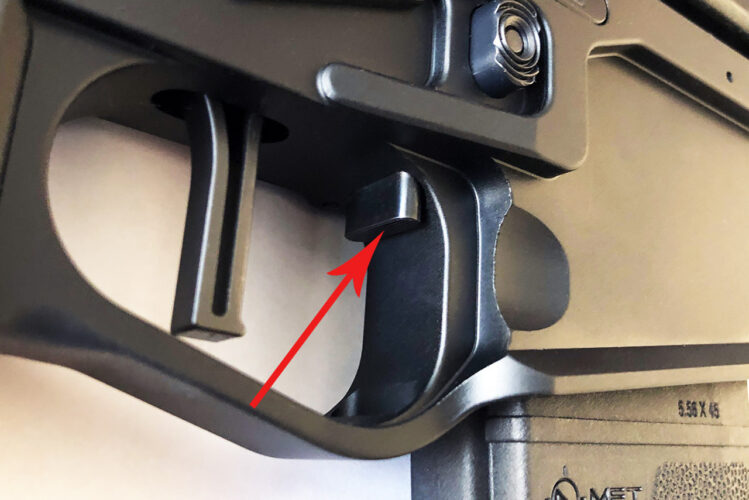 E2 Dual-Extraction Technology
POF's patented E2 dual-extraction technology uses four small channels cut into the walls of the chamber facilitating a small amount of gas pressure to push up against the neck of the spent case. This pressure enhances extraction by breaking the seal between the chamber and case as well as pushing the spent case to the rear as the extractor is pulling to the rear. This push-pull technology removes a significant amount of work that would otherwise be left only to the extractor.