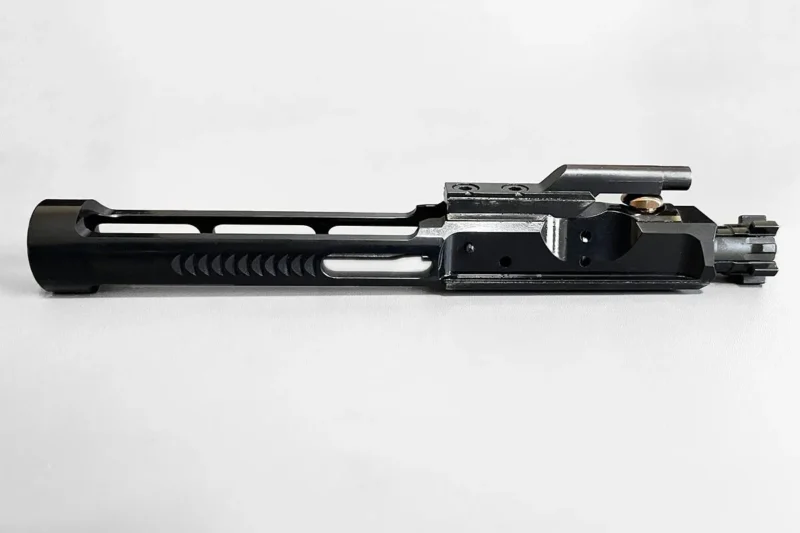 As part of a lightweight AR build in 5.56 NATO, I decided to give the NBS Lightweight Bolt Carrier Group a try. NBS (stands for No Bullshit) is the "house" brand for AR15discounts.com which is a great online firearms parts and accessories retailer. According to their website, NBS products are either procured from "reputable OEMs (Original Equipment Manufacturers) or are assembled in-house using name brand parts and components. All NBS products are backed by the NBS Limited Lifetime Warranty."
Why Choose NBS Over More Expensive Brand Name Low Mass BCGs?
First, I wanted a low mass BCG that was not too light…something in the 8.5 to 9 oz range. This would save a few ounces over a full mass BCG while not compromising reliability by going with an ultra low mass BCG made from titanium or aluminum.
Second, pricing for the NBS lightweight BCG, when on sale, has been as low as $69.95 plus shipping. Now, I would love to get a JP Low Mass BCG, but at $350, I simply could not justify the cost.
Third, I have purchased a few NBS "full mass" bolt carrier groups before and have never had any issues with them.
And lastly, AR15discounts.com stands behind everything they sell, so if there is a problem, they quickly address it.

Features of the NBS Lightweight Bolt Carrier Group
.223/5.56 NATO
Black nitride finish
Magnetic particle inspected
9310 steel bolt
Case hardened 8620 tool steel heat treated carrier
Staked gas key
Grade 8 fasteners
4140 steel cam pin
Shot peened tool steel extractor
Weight: 8.875 oz (according to my scale)
Since I had an extra Lantac domed cam pin laying around, I ended up using it in the NBS BCG. There is actually nothing wrong with the original cam pin that came with the NBS BCG.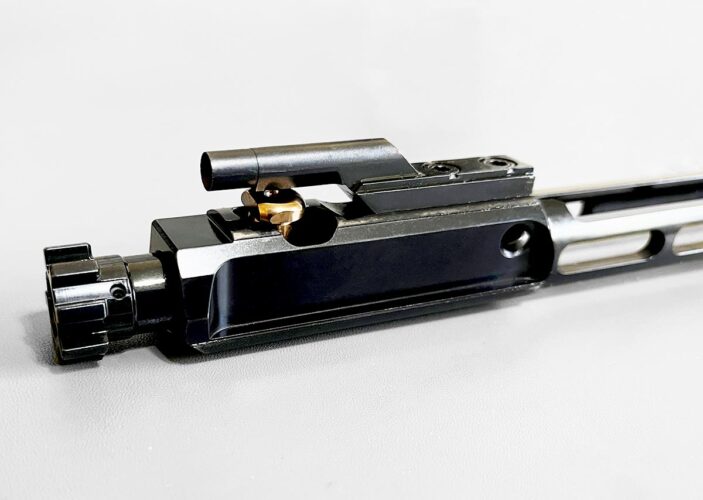 Pricing
MSRP is $139.95 but, I have seen it on sale for as low as $69.95.
General Impressions
Machining is good. The Nitride finish is slick, but does show signs of wear at common wear points such as the carrier rails, after a few trips to the range. Not a big deal, but just something I noticed.
Gas key staking was not done as well as I would have liked, but I believe it should be fine.

At the Range
Having shot approximately 160 rounds of 5.56 NATO 55 gr FMJ (M193), suppressed with a YHM Turbo and an Aero Precision adjustable gas block dialed in, using a Balios Lite build, I experienced no malfunctions whatsoever. I also use the NBS low mass BCG in a Wilson Combat billet receiver build.
Final Thoughts
If you are looking for a relatively lightweight, good quality BCG that won't break the bank, you may want to consider the NBS Lightweight Bolt Carrier Group in black nitride. I really find it to be the best low mass BCG for the money.