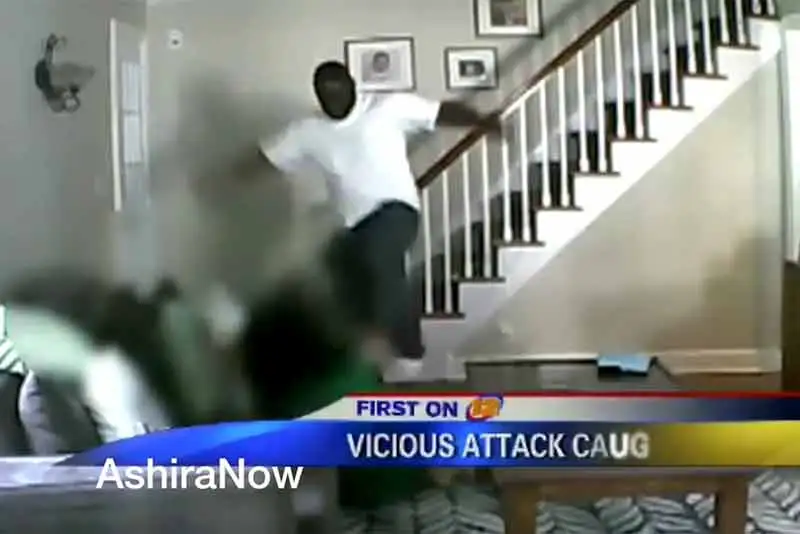 Unfortunately, home invasions often do occur in "Good" neighborhoods. That's because criminals know victims in good neighborhoods are usually "soft" targets and have items worth stealing.
Below is video from a nanny cam of a home invasion that took place in Millburn, NJ on June 21, 2013. Millburn, NJ is a nice bedroom community with a median home value of $767,900 (according to Zillow).
This home invasion occurred at approximately 10am as the female victim was making breakfast while her 3 year old daughter was present. The perpetrator, 42-year-old Shawn Custis, broke through a locked back door and viciously beat and choked the victim while her young daughter watched in horror.
Custis, who was described as a black male, 5′ 11″ and weighing in at approximately 230lbs, had an "extensive" criminal history, so much so that the judge who sentenced him said that Custis is a "persistent offender" who "has almost as many arrests as he has birthdays" sentencing him to life in prison for first-degree robbery. Custis will not be eligible for parole until he has served at least 63 years and nine months. He was also sentenced to an additional 10 years for aggravated assault, 10 years for burglary, five years for endangering the welfare of a child and five years for criminal restraint. All of the sentences are to be served concurrently.
The perpetrator, 42-year-old Shawn Custis, broke through a locked back door and viciously beat and choked the victim while her young daughter watched in horror.
This Home Invasion should be a wake up call particularly for Women
A home invasion can be dangerous for all victims. However, women who are home alone (or with a child), are particularly at risk of assault, rape and/or murder as violent criminals often show little mercy for their victims as the above video illustrates. The above incident also highlights how the revolving door criminal justice system fails to protect its law abiding citizens and is one more reason why A Gun Can Protect You When Our Criminal Justice System Won't.
Other Home Invasions that were perpetrated in "Good" Neighborhoods
Savopoulos family and their housekeeper who were tortured and brutally murdered in their Washington DC mansion in the middle of the day!
Here is another incident where an elderly lawyer and his wife, a federal judge, were victims of a home invasion at their 27,000 square foot $8 million mansion on 5 acres in Ohio.
The grisly 2007 home invasion, sexual assaults and murders of the Cheshire, Conn. mother and her two daughters: https://www.usatoday.com/story/news/2017/07/17/cheshire-connecticut-home-invasion-murders-10-years-later/483863001/
Video below for story about 74 year old homeowner stabbed to death during home invasion in Atlanta suburb: http://www.wsbtv.com/news/local/fayette-county/deadly-home-invasion-sparks-search-for-possible-suspect/538737586
Here are some important questions that we all must ask ourselves.
How can a woman defend herself against a violent 230lb man UNLESS she has a gun on her person and is trained to use it?
Are the exterior doors and windows to your home truly secure (i.e. do you have solid core doors with 3 1/2″ screws fastening your strike plates and hinges to the studs, have a quality deadbolt, etc.)?
Do you have a safe room with an emergency cell phone in it?
Do you have a home invasion defense plan that your entire family is familiar with?
Unfortunately, we have a revolving door of justice, because some prosecutors seem to be too lazy to prepare for a trial and are happy to risk the safety of you and your family by handing out plea deals. Don't believe it?  Why then does a career criminal like Custis, get to plea out time and time again with light sentences until one day, he goes too far to be ignored?  Here is an excerpt from NJ.com (you can read the entire story here):
Court records show Custis bargained down the time he was facing for burglaries he committed in Essex, Mercer, Union and Middlesex counties to three years on each case, serving those sentences concurrently. With time he spent in jail before his case adjudicated, and credits for good behavior, he was out in 21 months.
Put another way, Custis has been convicted of at least a dozen felonies since 1988. Yet he has never spent more than five years at any one stretch in state prison, according to state corrections department records. Most times — with parole — he's been out in less than two. And in some cases, he did no jail time at all.
There are many convicted felons who get paroled for serious offenses (murder, rape, assault, etc.) and are back on the streets to re-commit violent crimes. Prosecutors know this, but some simply do not seem to care enough to do anything about it. If stiffer sentences were given out to begin with, this violent crime may have been prevented. Sadly, that was not the case.  As a result, you now have a woman AND her young daughter, traumatized, likely for life.
How can we protect ourselves and our families from the unthinkable? The first step is to recognize that home invasions can and do happen in "good" neighborhoods. Here are some tips about how to protect against a home invasion.