The YHM Turbo T2 began shipping in early 2020 as the replacement for the original Turbo that was released in 2017.
Features of the YHM Turbo T2
Notched rim and tri-port muzzle on the end cap for flash suppression
1-3/8″x24 threaded mount making it compatible with mounting systems from other manufacturers such as the SilencerCo ASR and Dead Air Key-Mo
Tubeless design made from heat treated 17-4 stainless steel; heat treated 718 Inconel blast baffle
Full-auto rating
Phantom QD adapter
Minimum barrel length of 10" (it used to be 10.5″, but YHM updated this on their website).
YHM Turbo T2 Specs
Weight: 13.625 oz (including Phantom QD Adapter which itself weighs 2.75 oz)
Diameter: 1.5625″
Length: 5.59″ (6.5″ with Phantom QD Adapter)
Mount: 1 3/8″-24 Adaptable Interface
Decibel Rating: 134 dB
What's Included with the YHM Turbo T2
The YHM Turbo T2 ships with:
1 Phantom QD adapter
2 suppressor wrenches
1 YHM-5M2 QD muzzle brake

Barrel shims

Owner's manual
Pricing
MSRP is $525 but the street price before COVID-19 was about $370.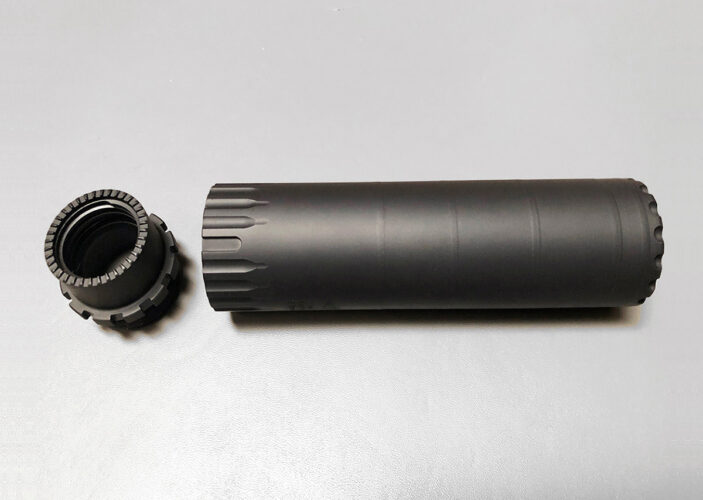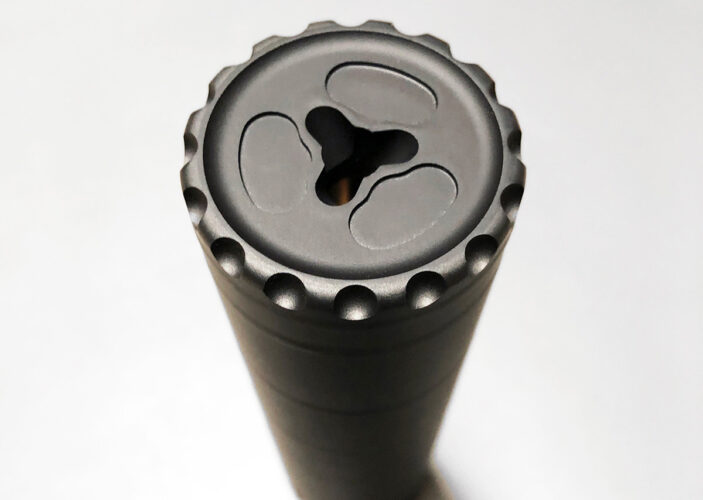 YHM Kurz QD Adapter – Make Your Turbo T2 Shorter
The YHM Kurz QD Adapter (available in steel or titanium) enables you to shorten your Phantom QD mounting system by almost 0.75″ giving the Turbo T2 a total overall length of about 5.75″. The steel version of the Kurz QD adapter will also save about 3/4 of an ounce (according to my scale, the Kurz QD adapter made from steel weighs 2 oz, while YHM states on their website that the titanium version weighs 1.2 oz) in overall weight for a total overall weight of 12.875 oz for both the Turbo T2 and Kurz QD adapter, but is supposed to be about 1-2 dB louder.
Initially, I was told by a representative at YHM, that the Kurz QD adapter requires the use of the YHM "Mini" Phantom QD Muzzle Brake and that the standard-sized Phantom QD muzzle brake is NOT compatible with the Kurz QD adapter when using a Turbo T2 or Turbo K. However, I have subsequently been told by someone else at YHM that the standard-sized Phantom QD muzzle brake IS compatible with the Kurz adapter.
Just to be on the safe side, I have decided to only use mini Phantom QD muzzle brakes with the Kurz QD adapter on a Turbo T2. Additionally, the "mini" QD brake (3.25 oz) is a little lighter than the standard QD brake (3.875 oz). By the way, the Turbo K is supposed to weigh about 1-2 oz. less that than the Turbo T2.

What's Included in the YHM Kurz Kit (Kurz QD Adapter and Muzzle Brake are now sold separately)
Originally, YHM offered the "Kurz Kit" which had included the Kurz low profile QD adapter, Mini Phantom muzzle brake and barrel shims. YHM has since discontinued selling the Kurz low profile QD adapter and the Mini Phantom muzzle brake together as a "Kit". The Kurz QD adapter (available in steel or titanium) and mini muzzle brake are now sold separately.
Tips About Attaching and Removing the YHM Turbo T2 and Possible Issues
When removing your Turbo T2, grasp it (while wearing a heat resistant glove or mitt) from the bottom around the notches of the Phantom QD adapter. If you ever have trouble removing your Turbo T2, you can use one of the spanner wrenches that is included with your Turbo T2, to break it free. To do this, position the spanner wrench at the bottom along the notches on the Phantom QD adapter itself and turn it counter clockwise. While YHM's QD mounting system is very good, you may want to read some tips and potential issues here.
Is the YHM Turbo T2 Hearing Safe?
I believe that no suppressor is truly hearing safe. Regardless, I always double up on hearing protection, even when shooting suppressed. Keep in mind that one loud blast (impulse noise), such as from gunfire or an explosion, of less than 1 second, can cause permanent and immediate hearing loss. For example, it has been reported that impulse noise which exceeds 140 decibels can immediately damage your hearing.
Hearing damage really boils down to the length of exposure to noise at a particular decibel level. For instance, The National Institute of Occupational Safety (NIOSH) states that for 115 decibel noise, the exposure limit is 28 seconds. The exposure to any sound louder than the 70 dB (EPA safe noise level) over 24 hours will damage hearing. Below is a chart from the American Suppressor Association that can help put exposure to sounds in perspective.

At the Range
Due to the ammo shortage, I was limited to what and how much I could shoot. That said, when shooting 200 rounds of M193, the YHM Turbo T2 eliminated concussion and noticeably reduced the flash signature, while bringing the sound level below that of a typical 9mm pistol.
Especially if you are shooting indoors with a shorter barrel and muzzle brake, this makes shooting 5.56 NATO a surprisingly pleasant experience. In fact, many people have tapped me on the shoulder to ask what brand of suppressor I was using and/or whether I was shooting subsonic ammo because they were amazed by how much quieter the YHM Turbo T2 (with the Kurz mount) made my SLR Rifleworks AR build. I also did not notice any difference in sound suppression when using the shorter Kurz QD adapter compared to the standard QD adapter.
More Gas to the Face and Eyes
Please keep in mind that the primary drawback when using the YHM Turbo T2, like with many other suppressors, is the increased gas to the eyes. It is for this reason I also use the Griffin Armament SN-ACH Charging Handle (another option would be the SilencerCo Gas Defeating Charging Handle) along with an adjustable gas block. A Bootleg adjustable bolt carrier group is a pretty good alternative to an adjustable gas block, but it may require the use of a heavier buffer.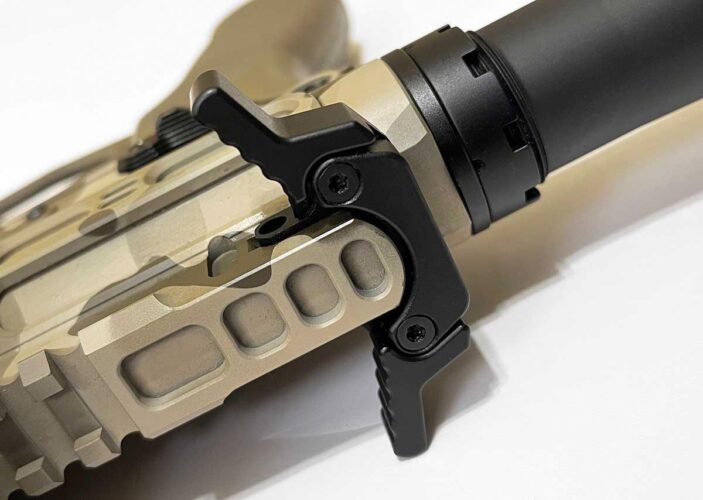 Should You Use Frangible Ammo with your YHM Turbo T2 Suppressor?
According to the YHM Turbo T2 owner's manual:
"Thinly jacketed and frangible ammunition can cause jacket separation resulting in damage to the suppressor. Damage resulting from the use of ammunition where jacket separation was present will not be covered under warranty." It goes on to say that: "Damage caused by the use of subsonic or frangible ammunition will not be covered under warranty."
Final Thoughts
The YHM Turbo T2 is an affordable, durable and impressive dedicated suppressor for 5.56 NATO from a reputable manufacturer, Yankee Hill Machine. The Turbo T2 also has a relatively short overall length, particularly if you purchase the Kurz QD adapter (approximately 5.75″).
Another awesome feature is that the YHM Turbo T2 uses a 1-3/8″x24 threaded rear mount making it compatible with a variety of mounting systems from other manufacturers including the SilencerCo ASR and Dead Air Key-Mo.
The YHM Turbo T2 costs about half of what many other popular suppressor brands have to offer. It is also shorter, lighter and quieter than many of those other more expensive suppressors. Whether this is your first suppressor, or another one you'd like to add to your collection, I don't think you'll find a better performing suppressor for the money.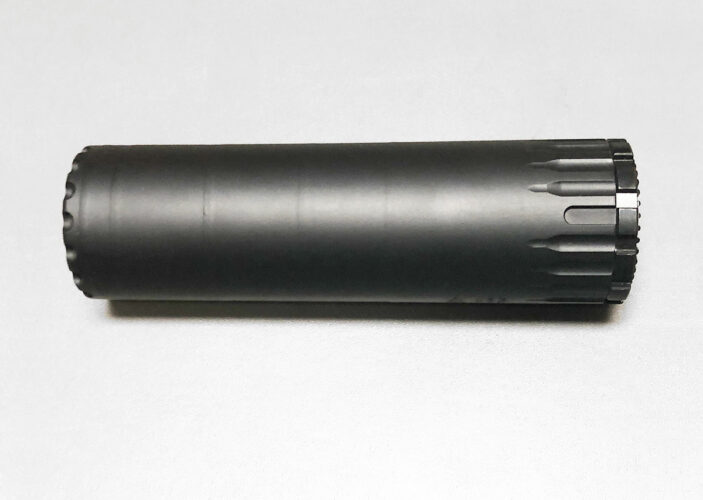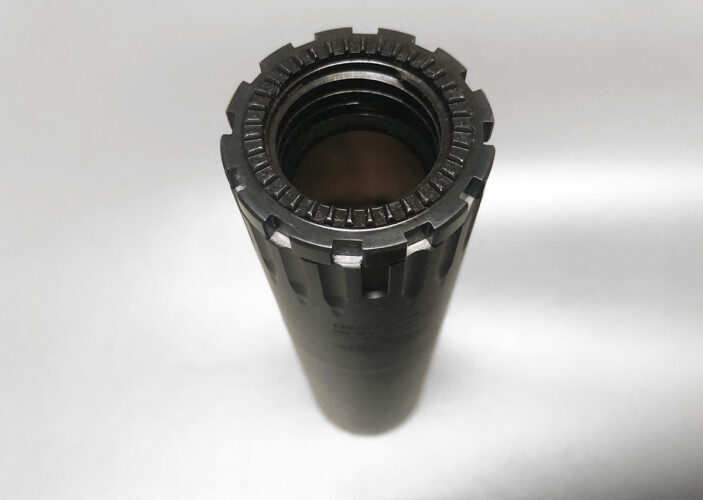 Gen 1 YHM Turbo (below left) vs Gen 2 YHM Turbo T2 with Kurz QD Adapter (below right)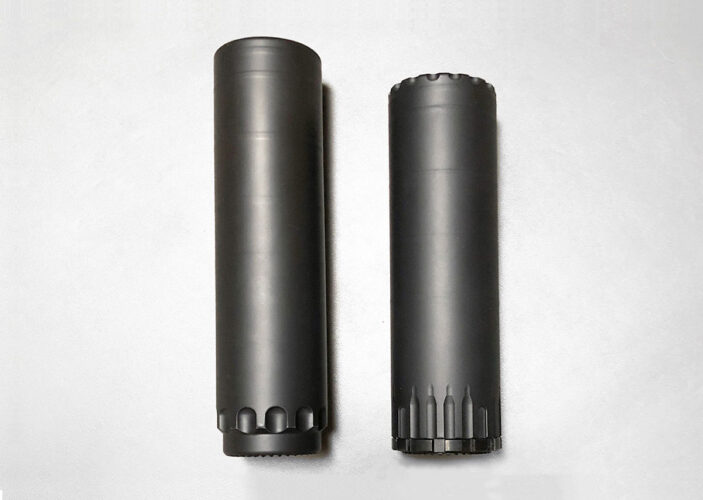 Gen 1 YHM Turbo (below bottom) vs Gen 2 YHM Turbo T2 with Kurz QD Adapter (below top)